Event Style: Layered Rewards

Prizepool: ?
I'm probably going with layered rewards this weekend, in other words, a whole bunch of mixed epic items, with the highest raidscores getting the highest value items.
Details will be posted by me later, final inventory check on Thursday =P

Prizepool Update:
21 epic prizes, with 4 players passing it's enough to cover everyone =)
-1 prize per player max, the lowest value items may be leftovers due to a few players being inactive/below fair share. If so, they'll be used for legendary fusion for next weeks raffle.
(Gem values often fluctuate a bit, I checked them on the trade house when the raid started).

-1x Epic lvl 38 Dragonscale Helmet (~134gems) Sparhawk
-1x Epic lvl 46 Twilight Helm (~100gems) Jerith Geros
-1x Epic lvl 38 Gaia's Fortress (~79gems) Will
-1x Epic lvl 33 Wyrm Hide (vest) (~79gems) Infmagic2047
-1x Epic lvl 37 Dragon's Eye (bow) (~67gems) Plop
-1x Epic lvl 38 Emperor Wand (~65gems) Ranrar
-3x Epic lvl 38 Seven Stars (dagger) (~55gems) Joycelina, Evilfish & Esso
-1x Epic lvl 31 Elir's Barbuta (~48 gems) k02
-1x Epic lvl 39 Cultist Staff (~40gems) Highspar
-2x Epic lvl 29 Storm Apparel (~40gems) Rastlin & Courtney
-1x Epic lvl 30 Moon Voulge (Healer I) (~39gems) Lee
-1x Epic lvl 34 Twisted Pike (~34gems) D3athSlay3r2015
-1x Epic lvl 28 Dragoon's Casque (helm) (~34gems) PuniYa
-1x Epic lvl 33 Rising Sun (gun) (~26gems) Manfred

3 extra Epic lvl 40 Twilight Robes thanks to Rastlin, random draw: Highspar, Joycelina & D3athSlay3r2015

(leftover for next week: they fused into a legendary rising sun)
-1x Epic lvl 33 Rising Sun (gun) (~26gems)
-1x Epic lvl 31 Shining Axe (~22gems)
-1x Epic lvl 29 Death Missive (gun) (~22 gems)
-1x Epic lvl 29 Bow of Light (~20gems)
Last edited by Dessy on Fri Apr 13, 2018 12:28 am; edited 3 times in total
updated with the winners, grats everyone!
4 epic items left, I'll toss them in the fusion cauldron for next week =)
And all of the 2k+ raidscores have been entered into Pixie's Raid Challenge again for a chance at extra prizes. I'm just storing the images here again as usual.
There's a special
eggcelent easter egg edition
this week. For a few of the prizes the winner or someone with their permission will have to do a few random rolls in the discord channel, within 24 hours of winning.
If anyone in the city would be willing to do the rolls for the players not using discord (on the off-chance a winner in our city would be selected), I'd highly appreciate it.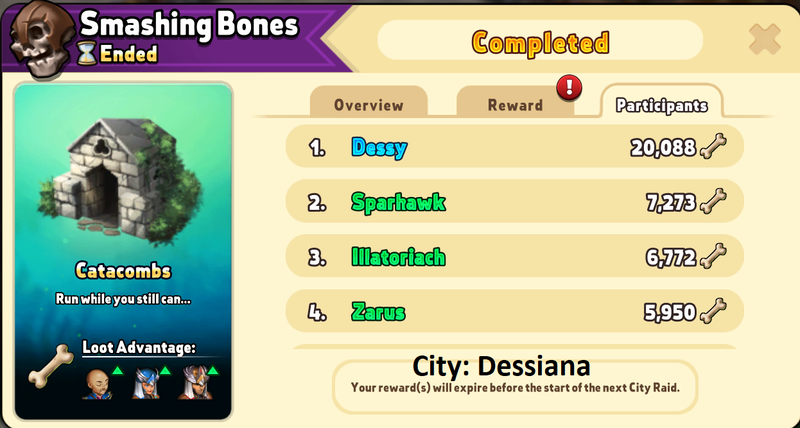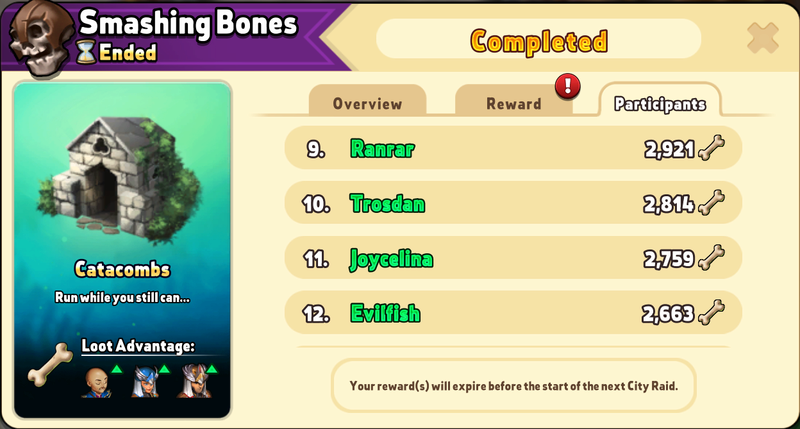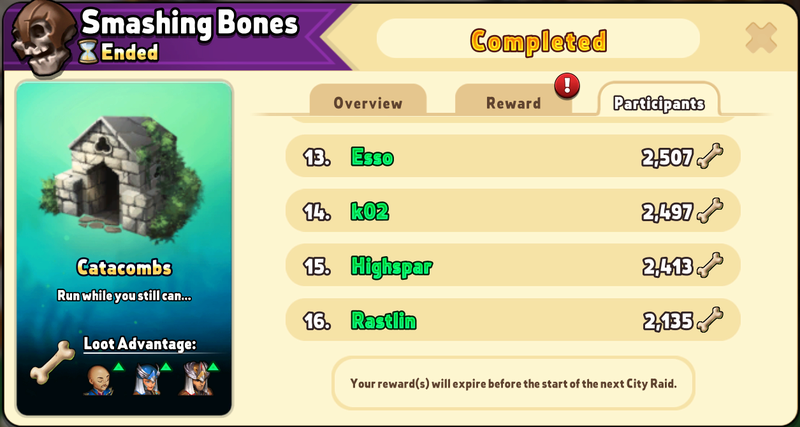 Similar topics
---
Permissions in this forum:
You
cannot
reply to topics in this forum