Event Style:  Raffle
Standard City Raffle (Lottery), every 500 points = 1 ticket
(check our website, below the city info for a detailed explanation of how raffles in the city work)

Prizepool:
*updated with the winners*
-1x Legendary lvl 47 Pirate Pistol (4650 power)* (~769gems) infmagic2047
-1x Legendary lvl 38 Lovestruck (bow) (~728gems) Highspar
-1x Legendary lvl 41 Twilight Aegis (Shield) (~499gems) Courtney
-2x Legendary lvl 32 Adventurer's Helm (~380gems) k02 & Plop
-2x Legendary lvl 37 Fire Smashers (Gauntlets) (~280gems) Jerith Geros & Sparhawk
-2x Legendary lvl 25 Chaos Armor (~247 gems) Anj & Will
-2x Legendary lvl 37 Arcane Sandals (Footwear) (~240gems) Lee & Fenton
-1x Legendary lvl 39 Twilight Scimitar (~230 gems) Ranrar
-1x Mythical lvl 9 Moon Boots (Energetic I) (~200gems) Esso
-3x Legendary lvl 32 Impaler (spear) (~168 gems) PuniYa, Evilfish & Joycelina
-1x Legendary lvl 33 Rising Sun (gun) (~156 gems) Rastlin

Ty to Zarus for adding so many extra legendaries to this weeks prizepool again!
(Gem values of the items checked at the trade house on friday before the raid started/this weekend.)

*As the pirate pistol is a lvl 47 item, not everyone in the city may be able to place a request for it.
So the draw will be done between all players lvl 42 and above + If anyone below lvl 42 is able to place a request for it, just post or let me know before the raid ends to have a chance to win it (It's possible if you found one before while questing, or if you have the blueprint.)
Confirmations recieved of <42 neighbours that can request it: Esso



Old rewards still unclaimed:
(from last week)
-Epic lvl 30 Moon Voulge: Lee
-Epic lvl 34 Twisted Pike: D3athSlay3r2015
Last edited by Dessy on Mon Apr 16, 2018 6:04 am; edited 9 times in total
Nice and big prize pool, and as usual, I'll try to make it even better and bigger
This
is not
a NOG as no mythics in list, just a bunch of puny unskilled bps
1 x Legendary - Twilight Scimitar - Sword - 39 -
the product of failed fuse
1 x Legendary - Lovestruck - Bow - 38 -
might break due to been heaviliy used by Mojian
1 x Legendary - Twilight Aegis - Shield - 41 -
brand new, got it from raid rolls
2 x Legendary - Adventurer's Helm - Helm - 32 -
heavy duty guard's helm, a bit stinky as Theor sweats a lot
2 x Legendary - Fire Smashers - Gauntlet - 37 -
name is given for their color, so dont try to smash fire with them
2 x Legendary - Arcane Sandals - Footwear - 37 -
slighly worn, some bloodstains and scratches from arena fights
I hope Des will clean the mess for me.
Next week, I will hold raffle with skilled items.
Thanks for another good raid everyone!
And Zarus, ty for adding so many extra legendary prizes!
I'll join in with the skill items next week. I have several mythical lunarods again & I'll work on some other legendary skill items.
I just finished the raffle calculations and the RNG has selected the winning tickets. Winners have been updated in the first post.
23 players (Egents & Sansacibolla MIA again and removed from the city), 4 passing on prizes & 2 below fair share this week. Leaving 17 players with a total of 90 tickets. The calculation & draws:
And all of the 2k+ raidscores have been entered into Pixie's raid challenge again for a chance at extra prizes. (I'm just storing the images here as usual):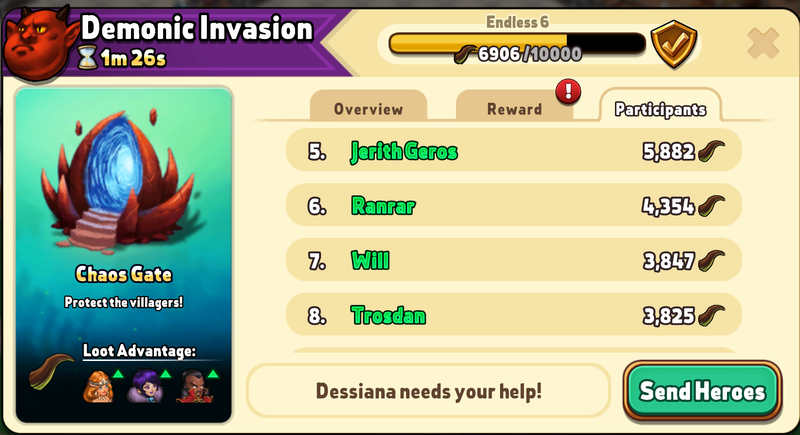 Similar topics
---
Permissions in this forum:
You
cannot
reply to topics in this forum