Event Style: Raffle
Standard City Raffle (Lottery), every 500 points = 1 ticket
(check our website, below the city info for a detailed explanation of how raffles in the city work)

Prizepool:
- 1x Legendary lvl 40 Balmung (4000 power, requires a pack for Support II)
- 1x Legendary lvl 40 Adamantium Boots (thanks to Jerith Geros!)
- ?x Mythical lvl 17 Lunarod (3500 power, Healer I): adding 1 for every 2 endless stages completed.
- 2x Legendary lvl 22 Winged Sandals (Support I)
- 4x Legendary lvl 18 Noble Plate (Support I)

- (+Skill items thanks to Zarus, to be updated later)


Zarus posted last week he'll be doing a skill item raffle this weekend, so we're having another raffle (lottery) style event this weekend. Jerith Geros added legendary adamantium boots to the prizepool & I've made some legendary support skill items for this weekend + I'm going to add mythical lunarods again as extra endless rewards =)
(-Illatoriach, Zarus, Trosdan & I are passing on rewards as usual, our scores can be ignored for this event)



Old rewards still unclaimed:
-Legendary lvl 37 Arcane Sandals: Lee
-Legendary lvl 32 Impaler (spear): PuniYa
-Epic lvl 30 Moon Voulge: Lee
Last edited by Dessy on Mon Apr 23, 2018 2:06 am; edited 2 times in total
Thanks for another great raid everyone =)
We completed endless 7 (raided several K towards endless 8 ) this weekend, so 3 mythical lunarods will be added to the prizepool.
update:
And grats to the winners of the weekend:
Legendary Balmung: Jerith Geros // Legendary Adamantium Boots: Highspar // Mythical Lunarod: Evilfish, Lee & Ranrar
Legendary Winged Sandals: Squark & Sparhawk // Legendary Noble Plate: Will, D3ath, Anj & infmagic.
Winners have been updated in the MM.
@Zarus, if you still wanted to add skill items raffle-style, let me know which ones?
I'll do the raffle calculations later & assign prizes to the winners tomorrow, so there's still time to add things.
The next raffle style event I have planned will be in 3 weeks, May 4-6th (the Rampaging Orcs/Oracle armor bp raid).
For the next 2 weeks I'll be doing mainly random draws (Fair share+) so everyone has the same chance at winning, with a few prizes reserved for the highest activity players (Top X).  
(You are of course welcome to have a raffle during those & draw the winners yourself if you like)
update: Zarus was unwell so this will be delayed
*Update*: the raffle calculations have been done, a total of 108 tickets have been collected.
11 prizes so the RNG has selected 11 winning tickets for now, prizes will be updated tomorrow.
(Lee's ticket was selected, but he hasn't been claiming rewards lately. So I have done one back-up draw in case he doesn't pick this one up either)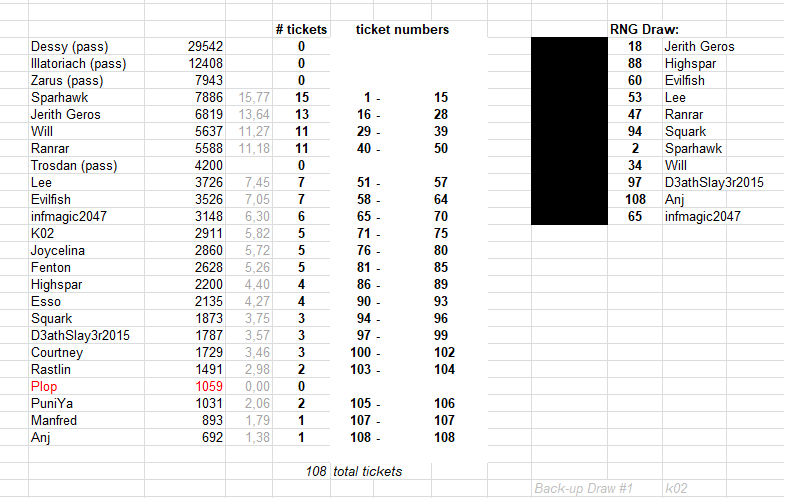 As usual, I'm just storing the images here that I entered into Pixie's Raid Challenge (chance to win epic primal items for those raiding 2k+):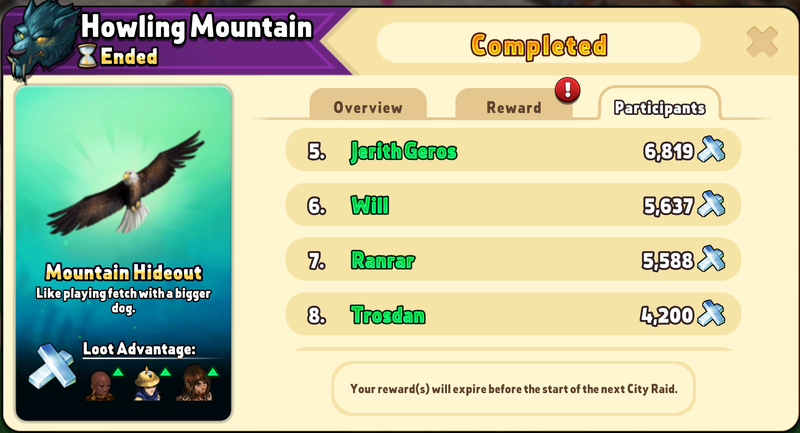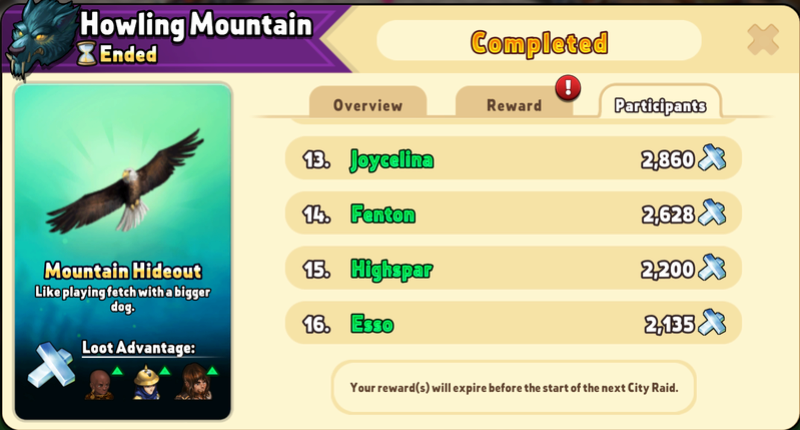 So I still have the Adamantium Shoes... haven't seen a request pop up for 'em. Just figured I'd let ya know!

JerithGeros




Posts

: 3


Join date

: 2018-01-01



thanks, I'll update it in the unclaimed part for next week.
Highspar won them in case you'd happen to see him online and want to remind him. (I'll do the same when I see him, I still have an epic dragonfire potion for him from the last raid as well)

I think we musta got confused on what item I actually have, hehe... It's the level 39 Adamantium Shoes, not the level 40 Adamantium Boots
EDIT: I caught him online and gave him the shoes! All sorted now.

JerithGeros




Posts

: 3


Join date

: 2018-01-01



Similar topics
---
Permissions in this forum:
You
cannot
reply to topics in this forum