City Raid: Burning Countryside (Dragonfire potion blueprint)

Event Style: Raffle & extra prizes for those raiding 10K+ points  
Standard City Raffle (Lottery), every 500 points = 1 ticket
(check our website, below the city info for a detailed explanation of how raffles in the city work)

Prizepool:
All prizes thanks to Zarus this weekend, see his post below.
("old" prizepool moved to next week, so it will be 2 big raffles in a row)
Last edited by Dessy on Thu Jun 07, 2018 5:30 pm; edited 6 times in total
Since 18/5 raid is pretty Epic, I'll ensure this one would be Legendary
Crap
to somewhat Mythical
First list of prizes is eligible for top 5 raiders over 10K score
Rolls out of Mythical Moon Walkers (x3) and Mythical Moon Boots (x2)
Consider if it's worth the effort
Second line of prizes applied to everyone not brave enough to skip the raffle
Rolls out of
Legendary, Abyssal Brand, Sword, 32
Legendary, Pulverizer, Mace, 35
Mythical, Soul Stealer, Staff, 30
Legendary, Viking Helm, Helm, 39
Mythical, Paladin's Helmet, Heml, 19
Legendary, Runic Tiara, Cap, 34, x2
Legendary, Shokers, Gauntlet, 32
Legendary, Planeswalkers, Footwear, 38
Legendary, Path Finders, Footwear, 29
Legendary, Arcane Sandals, Footwear, 37
Legendary, Silvered Greaves, Boots, 25
Legendary, Lion Boots, Boots, 12
Legendary, Magic Riders, Boots, 30, x2
Mythical, Phoenix Dust, Remedy, 35
Legendary, Albizia, Remedy, 41
Legendary, God's Essense, Potion, 39
Legendary, Dragon's Blood, Potion, 34
Legendary, Dynamic Ring, Ring, 32
Legendary, Divine Mark, Ring, 34
Legendary, Ancient Horn, Musical, 41
Legendary, Cat's Eye, Pendant, 34, x3
Woot, long list. Someone could get lucky with 2 items.
P.S. I know, most of them crap, but this is best I can part without ripping off my soul  
So you can just tell Des what exactly rolls you'd like to get, but you might end with nothing as well.
P.P.S. It's not my usual NoG rule for mythics, more likely GLC, Get Less Crap common sense
Nice Zarus! More prizes as players again =P
I'll delay my planned raffle & rewards untill next week in that case, so it will be two big raffles in a row
Great raiding again everyone, we completed endless 8 this weekend (7K+ towards endless 9).
6 players even improved their old personal topscore in these last 2 weekends:
k02(3527>4020), Evilfish (3713>3972),  Fenton (2628>3985), Squark (2751>3078), Courtney (2239>2250) & Anj (926>1011).
10K+ prizepool Winners: None
Just Illatoriach and I scored over 10K but as always we're both passing. Not unexpected, and I would say it's actually a really good thing that no one can suddenly double/tripple their best raidscore, it means everyone always tries their best and sends their teams when they can =).
We had 24 Raid participants: 4 players passing & 3 below fair share (2 on vacation) which left 17 players for the 25 remaining prizes from the raffle. A total of 126 tickets got collected, prizes have been sorted by trade house gem value to determine the order & the RNG has selected the following winning tickets:
Raffle Winners:
Mythical, Phoenix Dust, Remedy, 35 (1.1Kgems) Will
Legendary, Planeswalkers, Footwear, 38 (900gems?) Sparhawk
Mythical, Paladin's Helmet, Helm, 19 (490gems) Courtney
Mythical, Soul Stealer, Staff, 30 (400gems) Viniciro
Legendary, Dynamic Ring, Ring, 32 (330gems) Squark
Legendary, God's Essense, Potion, 39 (320gems) Ranrar
Legendary, Dragon's Blood, Potion, 34 (298gems) Manfred
Legendary, Runic Tiara, Cap, 34, x2 (280gems) Highspar & Plop
Legendary, Shockers, Gauntlet, 32 (267gems) k02
Legendary, Arcane Sandals, Footwear, 37 (240gems) Anj
Legendary, Divine Mark, Ring, 34 (230gems) Joycelina
Legendary, Magic Riders, Boots, 30, x2 (219gems) Fenton & Jerith Geros
Legendary, Path Finders, Footwear, 29 (200gems) Esso
Legendary, Viking Helm, Helm, 39 (194 gems) Evilfish
Legendary, Albizia, Remedy, 41 (178 gems) infmagic2047
Extra Lucky winners (2nd city request):
Legendary, Abyssal Brand, Sword, 32 (175 gems) Will
Legendary, Ancient Horn, Musical, 41 (162gems) Viniciro
Legendary, Pulverizer, Mace, 35 (147gems) Sparhawk
Legendary, Cat's Eye, Pendant, 34, x3 (134gems) Ranrar, Squark & Joycelina
Legendary, Silvered Greaves, Boots, 25 (99gems) Courtney
Legendary, Lion Boots, Boots, 12 (40gems) Plop
The raffle calculations & draws:
A few lower scores this weekend: only Lee unexplained. PuniYa and  D3ath on vacation. Rastlin lost acces to his account =( I'm keeping his spot reserved for a while in case SH support is able to relink it to his new phone, or if he decides to start over and join on a new account.
All 2K+ scores have been entered into Pixie's Raid Challenge as usual: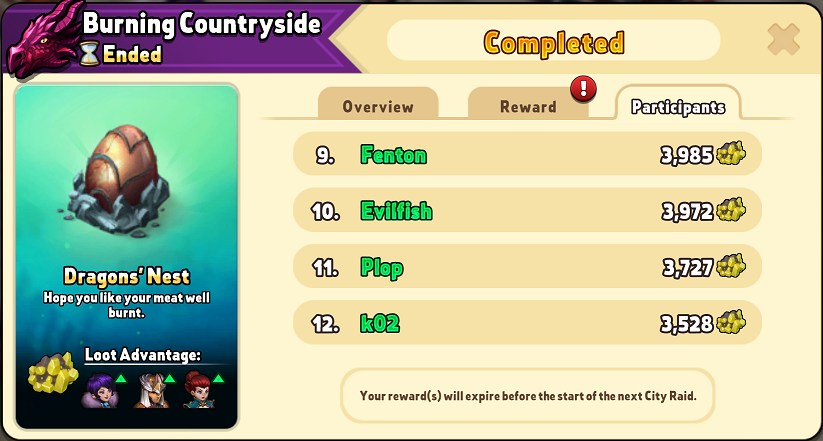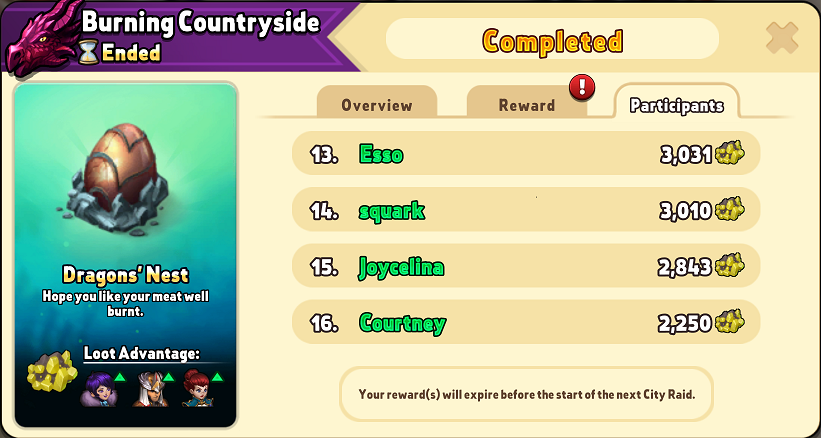 Similar topics
---
Permissions in this forum:
You
cannot
reply to topics in this forum