City Raid: Demonic Invasion (Umbral Axe blueprint)

Event Style: Full Random

Prizepool: *updated with the winners*
-3x Legendary lvl 31 Life Potion (1750 power, TH value ~100gems)   Esso, Courtney & Anj  
-2x Epic lvl 50 Umbral Axe (4538 power, TH value ~50gems) Will & Plop  


Random rewards this weekend, everyone above fair share will have the same chance to win.
I'm giving away 2 epic lvl 50 umbral axes (this weeks city raid blueprint) & a few legendary life potions.


Old rewards unclaimed:
- PuniYa (MIA 1week+ atm): Check the last few weeks =P  
- Lee stopped picking up rewards, I'll consider him as passing on everything from now on.
Last edited by Dessy on Fri Jul 06, 2018 12:17 am; edited 3 times in total
Thanks for another great raid all, endless 7 completed this week.
Winners have been updated in the first post.
Just storing all the images for Pixie's Raid Challenge & World Cup event here as usual: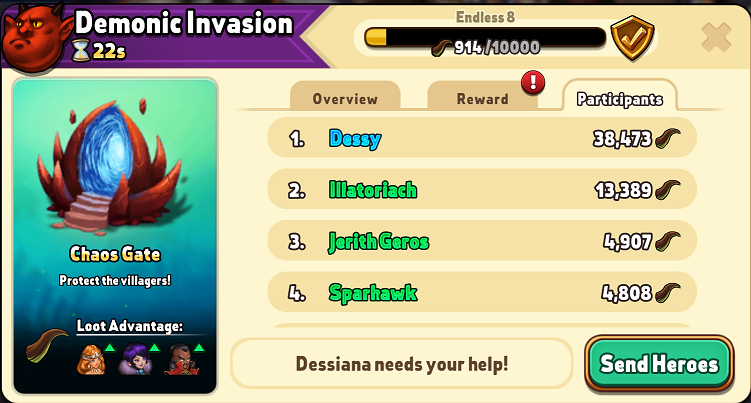 World Cup event entry (1 point for every player above 1K )
Details here:
http://forum.shopheroes.com/viewtopic.php?f=9&t=9570&p=49699#p49699
Similar topics
---
Permissions in this forum:
You
cannot
reply to topics in this forum