City Raid: Burning Countryside (Dragonfire Potion blueprint)
Tripple (3x!) Loot Heroes: Nya, Edward and Francesca

Event Style: Raffle
Standard City Raffle (Lottery), every 500 points = 1 ticket. (Fair share+ req. as always)
(check our website, below the city info for a detailed explanation of how raffles in the city work)

Prizepool: *updated with winners*
-2x Legendary Lvl 49 Dragonfire Potion (4900 power) ~219gems Will & Evilfish
-1x Mythical lvl 22 Hammer Fist (BiA I, 4125power) ~232gems  Jerith Geros
-1x Legendary lvl 38 Emperor's Wand (AW I, 3500power) ~187gemsJoycelina
-1x Legendary Lvl 30 Dark Vambrace (1700 power) ~159gems Bugsy
-1x Legendary lvl 34 Twisted Pike (2400 power) ~132gems Matze
-2x Legendary Lvl 27 Prayer Ring (Revive I, 2200 power) ~122gems Courtney & Squark
-1x Legendary lvl 29 Storm Apparel (Clothes, Wise I,  2000 power) ~98gems k02 & Viniciro
-2x Legendary Lvl 27 Bloodlust Gauntlets (1450 power) ~90gems Maharilya & Fenton
-2x Legendary lvl 23 Swift Seed (Remedy, Gangster I,  1750 power) ~75gems Manfred & Highspar
-?x Epic lvl 49 Dragonfire Potion (3675 power, ~30gems) for everyone else above fair share that wasn't lucky enough to win a legendary or mythical item. (I added an extra legendary robe. legendaries/mythicals for everyone =)

Extra Endless bonus prizes thanks to Illatoriach:
-?x Mythical lvl 17 Lunarod (3500power, Healer I, value ~88gems), 1 rod added to the prizepool for every 2 endless stages completed Esso, Ranrar, Plop, Sandal2110, infmagic2047 & LunaticX



Big raffle again this weekend =)
It's the dragonfire potion blueprint raid and I've made a few legendary versions as top prizes for the weekend + lots of other lower level high quality items. (Gem values of items copied from the trade house on Friday to determine the order.)
And Illatoriach will be adding Mythical Luna rods to the prizepool again, amount based on endless stages.
(Illatoriach, Zarus, Trosdan & I are passing on all rewards as usual)


Old rewards still unclaimed:
-infmagic2047: Epic lvl 25 King's Gauntlets
-Highspar: Epic lvl 31 Protector Gauntlets
Last edited by Dessy on Fri Aug 24, 2018 1:43 am; edited 13 times in total
Wow, the city record was broken once again this weekend: Endless 13 completed!
7K+ towards endless 14, amazing =)
Lots of players improved their previous best score: Zarus, Ranrar, Will, Squark, Courtney, Matze, Bugsy, Sandal2110 & Dessy.
And the raffle calculations have been done & the RNG has selected the winners =)
Endless 13, so 6 Mythical Luna Rods have been added to the prizepool thanks to illatoriach.
And I've added 1 more legendary storm apparel to the prizepool, so everyone gets at least a legendary quality item this week:
All 2k+/10K+ raid scores have been entered into Pixie's Raid Challenge as usual for a small chance at extra prizes: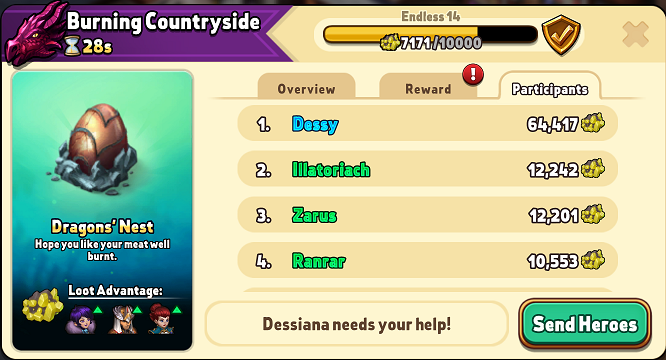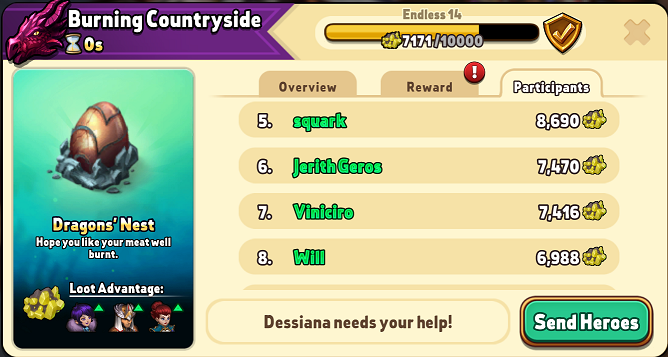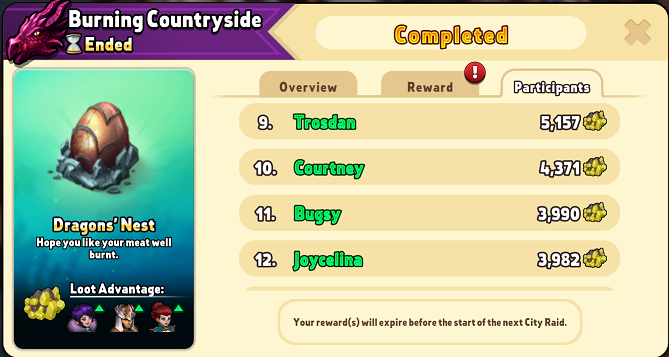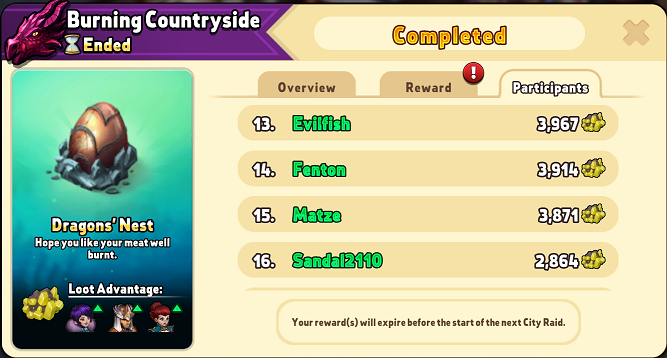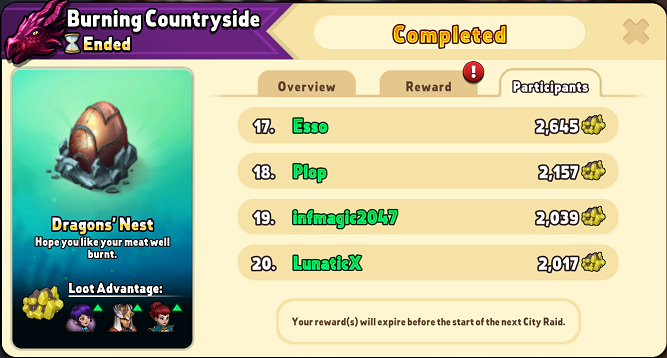 The rest: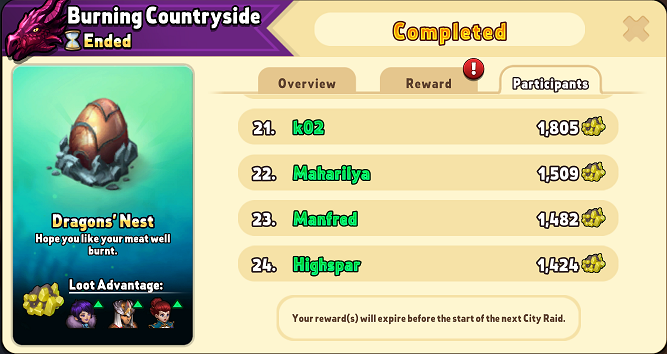 We have a winner in the city from Pixie's Raid Challenge =)
http://forum.shopheroes.com/viewtopic.php?f=9&p=50718#p50718
: "Courtney Dessiana Myth Wrym Horn"
Grats Courtney =) It will be automatically placed in your inventory by a GM. (Bit of patience might be needed, previous winners in our city said it took a few weeks before they recieved prizes from it so far)
Similar topics
---
Permissions in this forum:
You
cannot
reply to topics in this forum