City Raid: Rampaging Orcs (Oracle Armor blueprint)
Double loot heroes: Clovis, Gauvin & Kurul
Event Style:
Raffle
Standard City Raffle (Lottery), every 500 points = 1 ticket. (Fair share+ req. as always)
(check our website, below the city info for a detailed explanation of how raffles in the city work)
Prizepool:
*winners*
-1x Legendary lvl 47 Pirate Pistol (4650 power, TH value ~600gems) Matze
-5x Legendary lvl 26 Singing Chakram (Healer I, 2100 power, TH value ~260gems)  Plop, Viniciro, Maharilya, Squark & Highspar
-3x Mythical lvl 8 moonboots (Energetic I, 1050 power, TH value ~140gems) Jerith Geros, Courtney & Esso
Extra Endless Bonus Rewards, thanks to Illatoriach:
-?x Mythical lvl 17 Lunarod (3500power, Healer I, TH value ~90gems) Sandal2110 & Fenton
(1 rod added to the prizepool for every 2 endless stages completed, Endless 4 completed, so 2 rods added)
Bigger raffle style event this weekend again =) Prizepool with legendary & some mythical skill items.
Big ty to illatoriach for adding the mythical lunarods again =)
All items have been sorted by TH value (copied from the trade house on thursday) to determine the draw order as usual, gem values fluctuate a lot so merely an indication, etc. etc. =P
And there will be an extra prize draw again at the end of the month. Details here:
October Special City Raid Event
Old rewards still unclaimed:
-Sandal2110: legendary lvl 15 moon walkers (footwear)
Last edited by Dessy on Mon Oct 15, 2018 7:15 am; edited 6 times in total
Thanks for another good raid all. Endless 4 completed, so 2 mythical lunarods have been added to the prizepool.
The raffle calculations & draws have been done.
23 players: 4 of them passing and 3 with a busy weekend/vacation, which left 16 players for the draw with a total of 81 collected tickets.
The RNG has selected the winning tickets. Grats to the winners =)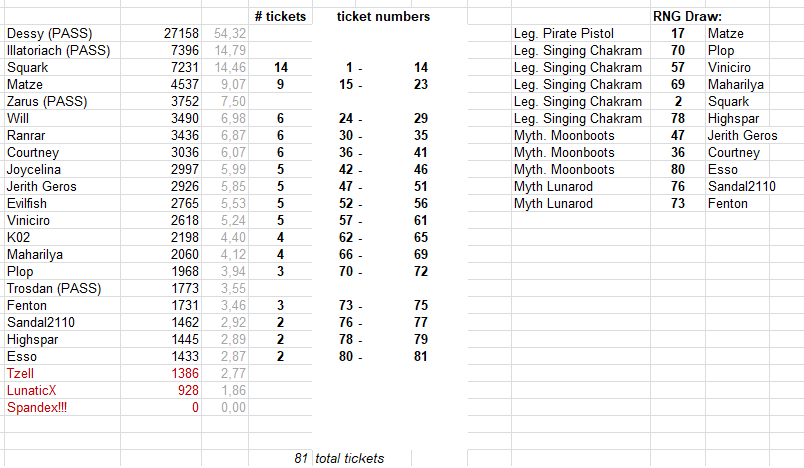 Just storing the 2k+ raid scores/images here that I've entered into Pixie's Raid Challenge for a chance at extra prizes.
(the 1-2K was just temporary for the september event afaik, but just in case there is still a mini-raider category... the 1K+ scores have also been submitted)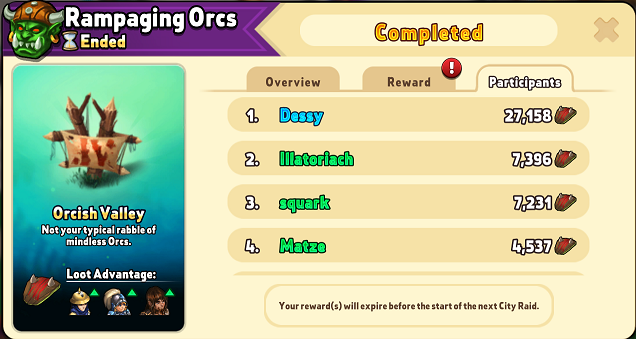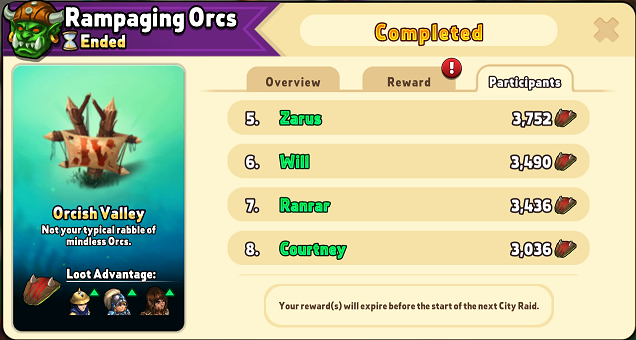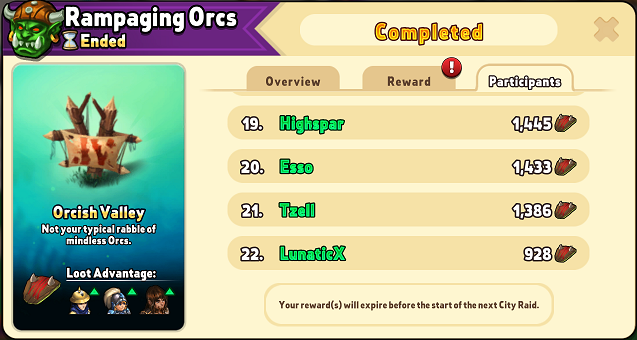 Similar topics
---
Permissions in this forum:
You
cannot
reply to topics in this forum