Trade Wars:
The Trade Wars event is once every 2 weeks now, starting right after a raid ends.
City Raids:
4 city raids in September.
The new raids take 160K points to complete, which means the new "fair share" of 1/25th of the points = 6.4K per player.
For players still below that: be aware that after this month, I will slowly start increasing the minimum towards it.
details here
in the 2nd post.
Other:
-
Raid Cycle Challenge
: 23 August - 3 November. At the end of the raid cycle (11 raids), I'll do an extra prize draw again.
Prize list will include at least one mythical city raid or similar level item again & lots of other nice items =)
Odds will be based on your raid score average of the 11 raids: raffle (lottery) style, every 1000 points = 1 ticket.
You can find your current average and scores on the
event spreadsheet
City Raids:
Demonic Invasion (Ended)
: Random
-5x Epic lvl 46 Berserker Gauntlets (~100gems each)
-Extra random 6.4K+ draw: 1x Epic lvl 54 Starfrost Skates
Thanks for another good raid all =) Endless 4 completed. RNG selected the following winners:
-Epic lvl 54 Starfrost Skates: Ranklar
-Epic lvl  46 berserker gauntlets: Evilfish, Fenton, Joycelina, Jeeker & Will
Howling Mountain (Ended)
: Raffle (lottery), 1000 points/ticket
-2x Legendary lvl 40 item of your choice: Balmung or Midas Gloves (Support II pack items) or Mystic Ring (Healer II pack item)
-5x Legendary lvl 26 Evil Seal (Spell, Energetic I)
-3x Mythical lvl 9 Moon Boots (Boots, Energetic I)
-Endless bonus: 1 extra mythical lvl 17 Lunarod (Staff, Healer I, 3500 power) added to the prize pool per endless stage completed.
Endless 9 completed, so 9 lunarods have been added to the prize pool. That only left 2 players unlucky with the draws... so I added 2 extra epic dragonfire potions as mini's =)
The draws, with the winners listed on the right: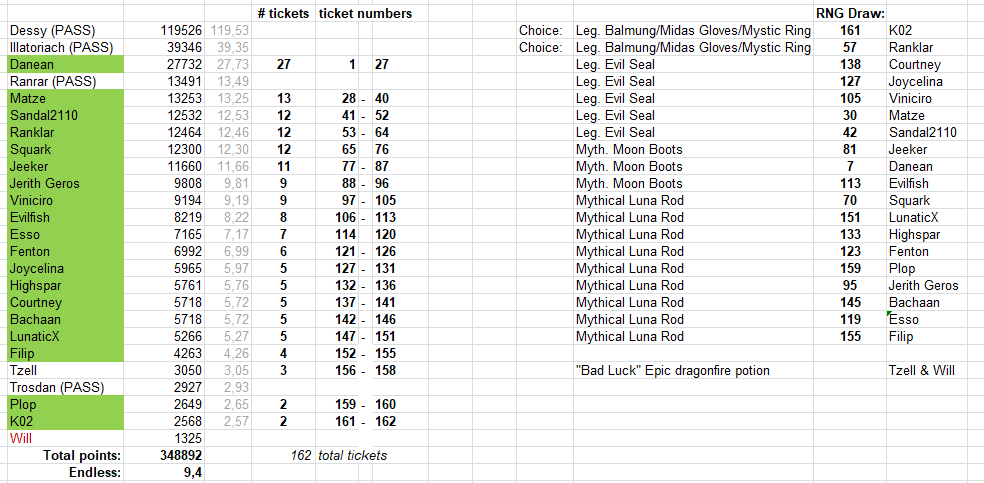 Deadly Swarm (Ended)
: Random
-Random: 5x Epic lvl 45 Abyssal Gauntlets
-Extra random 6.4K+ draw: 1x Epic lvl 54 Starfrost Skates
Winners:
-Epic lvl 54 Starfrost Skates: Jeeker
-Epic lvl 45 abyssal gauntlets: Filip, Evilfish, Plop, Fenton & Matze
Wild Overgrowth (Last Raid)
: Top 5 + 3 Random
- 8x Epic lvl 40 Midas Gloves (~100gems each)
Winners:
(Top 5:) Jeeker, Ranklar, Fenton, Esso, Jerith Geros & (random:) Courtney, Filip & Highspar
Older rewards still unclaimed:
-
Similar topics
---
Permissions in this forum:
You
cannot
reply to topics in this forum