Trade Wars:
The Trade Wars event is once every 2 weeks, starting right after a raid ends.
City Raids:
The new raids take 160K points to complete, which means the new "fair share" of 1/25th of the points = 6.4K per player.
details here
.
Other:
-
Raid Cycle Challenge #4
: 3 Januari - 15 March.
At the end of the raid cycle (11 raids), I'll do an extra prize draw again.
Prize list will include at least one mythical city raid or similar level item again & lots of other nice items =)
Odds will be based on your raid score average of the 11 raids: raffle (lottery) style, every 1000 points = 1 ticket.
You can find your current average and scores soon on the
event spreadsheet
Prize draws for our last local raid challenge (#3) & the prize list can be found
here
City Raids:
7-9 February: Wild Overgrowth (Ended)
-Legendary Coldfire Dust: Top 5 & 3 Random
Top 5: Ghosage, Amuahari, Jeeker, Viniciro & Evilfish. Random: Courtney, Plop & SilentLegion
14-16 February: Rampaging Orcs (Ended)
Raffle (lottery), 1000 points/ticket
Celebrating the 3rd city anniversary with a big raffle this weekend! Prize pool wil be bigger than usual & there will be some nice items in it:legendary starfrost skates, mythical obsidian greaves & more.
and the results are in... winners listed on the right: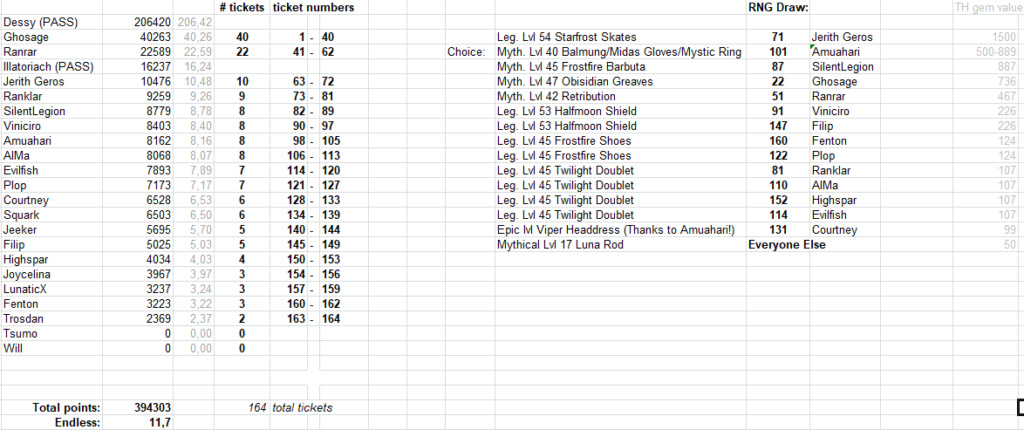 21-23 February: Night of the Curse (Ended)
Random
Random draws this weekend, prizes:
-2x Legendary lvl 42 Pirate Armor (vest):
Plop & Jerith Geros  
-3x Epic lvl 52 Mother Nature (shield):
Amuahari, Almos & Highspar
28 February - 1 March: Voice in the Dark (Ended)
-Legendary Coldfire Dust: Top 5 & 3 Random
(Top 5:) Ghosage, Almos, Fenton, Jeeker, Jerith Geros & (random:) Viniciro, Joycelina, AlMa
***For March & April:***
I've been slacking a bit with the forum updates lately… but weekly events & winners are still being listed in the Mayor's Message, city chat & on our city discord.
Similar topics
---
Permissions in this forum:
You
cannot
reply to topics in this forum