City Raid: Howling Mountain (Lycan Slayer blueprint)
(One of the few raids with tripple loot from the special heroes instead of double)

Event Style: Raffle
Standard City Raffle (Lottery), every 500 points = 1 ticket
(check our website, below the city info for a detailed explanation of how raffles in the city work)

Prizepool: *Grats to the winners:*
2x One Legendary lvl 40 item of your choice: Balmung, Midas Gloves or Mystic Ring. Viniciro & Squark
   (Balmung: sword, 4500 power, Support II with Advanced Shopfare pack)
   (Midas Gloves: 3750power, Support II with Heroic #1 Pack)
   (Mystic Ring, 3750 power, Healer II (25%) with Heroic#2 Pack)

-3x Mythical lvl 9 Moon Boots (1050 power, Energetic I) Will, Mudrik & k02
-5x Legendary lvl 22 Winged Sandals (1400power, Support I) Fenton, Joycelina, Ranrar, infmagic2047 & Highspar
-?x Mythical lvl 17 Lunarod (3500power, Healer I), 1 rod added to the prizepool for every 2 endless stages completed (thanks to Illatoriach!) Evilfish, Jerith Geros & Sparhawk


Raffle time this weekend =) Endless bonus Mythical Lunarods as usual, but thanks to Illatoriach this time.
Main prizes are legendary shop pack bp items. The skill may not work for those that don't own the pack, but they're still very nice as power items. Unbreakable on lvl 40-ish heroes, or decent power boosts for your lowest heroes for those with support... or sellable for a couple hundred gems to buy(/save up for) something else you'd want of course =)


Old rewards still unclaimed: -
Last edited by Dessy on Fri Jul 13, 2018 2:16 am; edited 11 times in total
Thanks for another great raid all, endless 7 completed this weekend. (3 Luna rods added to the prizepool)
The raffle calculations and draws have been done & winners have been updated in the first post.
A total of 117 tickets have been collected & the RNG has selected the winning ones:
(All items have been sorted by Trade House value as usual to determine the draw order. The level 40 items being the obvious top prizes worth several hundred gems, myth moonboots at 140ish atm, rods at 90, and winged sandals being the lowest at 70gems).
2k+ raid scores have all been entered into Pixie's Raid challenge for a chance at extra prizes. (just storing the images here:)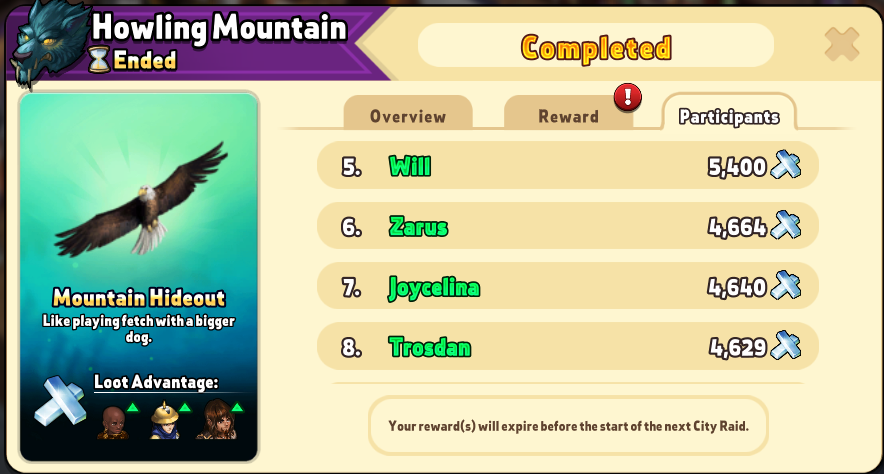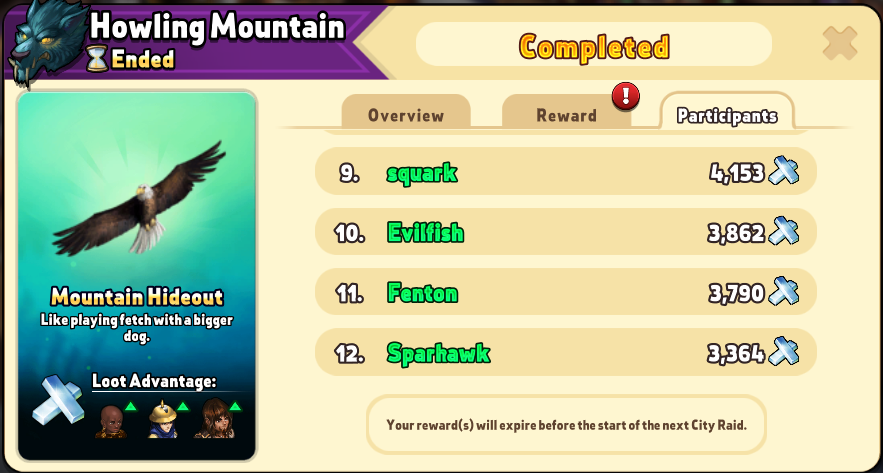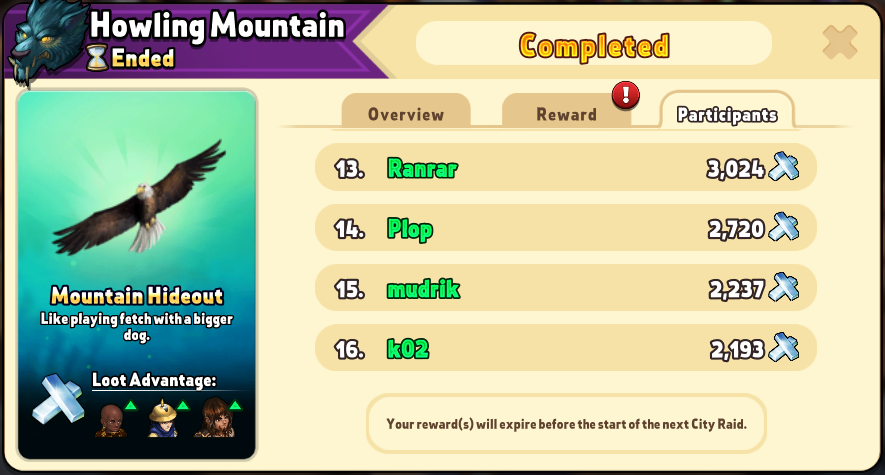 1k+ raid scores have all been entered into the special world cup heroes event (19 points for the city this week):
Details here:
World Cup Heroes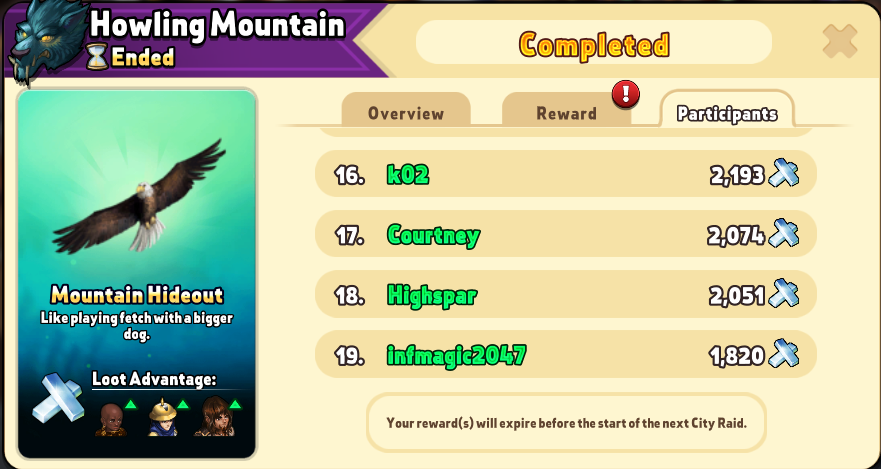 Similar topics
---
Permissions in this forum:
You
cannot
reply to topics in this forum