Viniciro




Posts

: 4


Join date

: 2018-05-07



Ah I missed that in city chat =)
I don't mind sharing my build, but it's an ever changing puzzle depending on what blueprints players have.
I'm currently working towards revive teams & already have enough power to be flexible with teams so my current set up is a bit odd =P
I would not recommend copying it but suggest aiming for teams with support + 100% energetic + 90% healer + speedrunner + lootboosters.
I put a guide for questing for profit, with the items I started with here on our forum. It's in the member-only section and will become visible when players are logged in here.
It's an easy way to 100M+ profit per hour with very simple blueprints and low power teams that I've been using for a long time, and it can be increased to 1G+ per hour eventually with more advanced bp's. (beyond that for players with a lot of packs from the shop, could be a bit below it for players that are free to play)
My starter set-up was the following (free to play, just energetic & support + some 0% breakables to compensate for not having 7 support per team):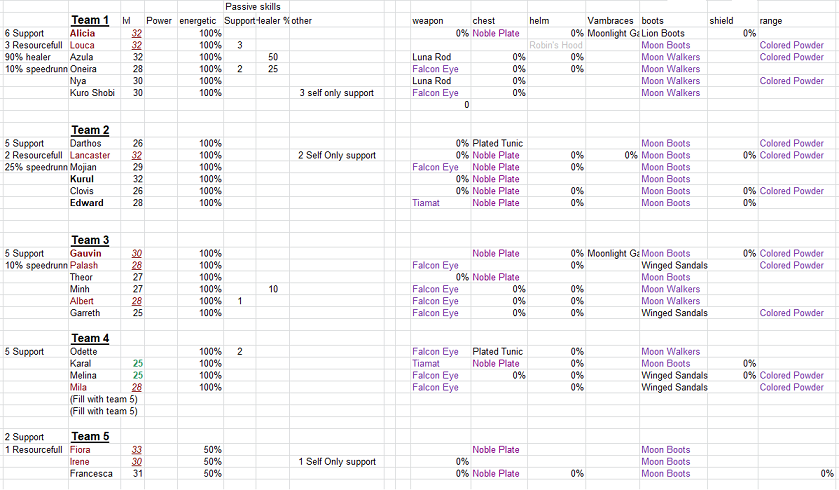 I added every small lootbooster I could to that later: raccoon rangers, seeking tips, robin's hoods. And switched to kuro as leader instead of oddette to get all teams to 10%+ speedrunner with moonlight gauntlets. Added healer bp items when I got them and moved the 50% energetic heroes to a 90% healer team with kuro in the lead to compensate.
All the small lootboosters made a huge difference, 250M+/hour at the time free to play without item breaks with just wood-leather bp's and a few iron ones. (Could go a lot higher with DFP's & gold and higher chest blueprints)
My current build does include some items from a few packs I picked up later:
(image won't fit, but you can click on it for the full image to see the last slots or check it here for a slightly larger version:
https://i.servimg.com/u/f14/13/91/69/34/curren15.png
)
I hope it's readable, for some reason the image host downsizes the images...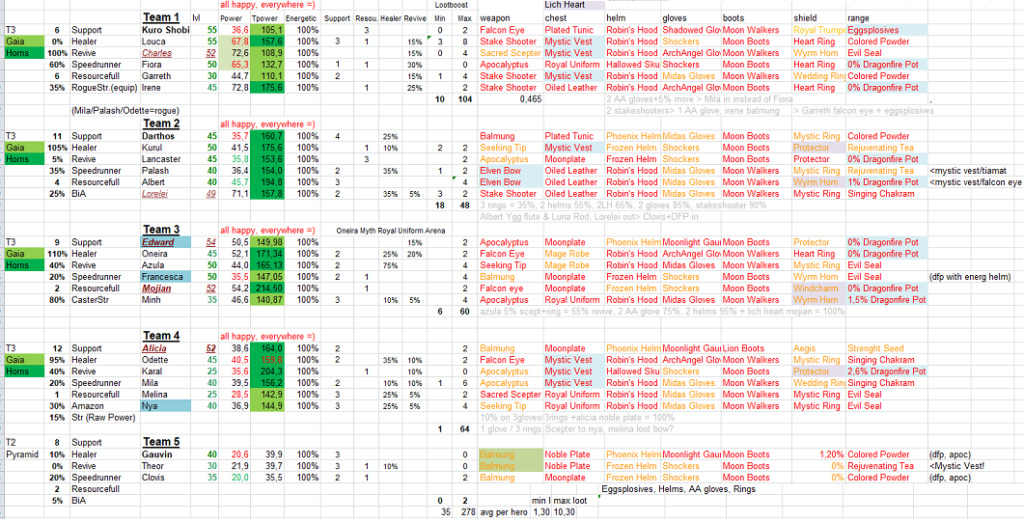 But those are what I'm currenly using for questing & raiding. 400+ items per run on the current DFP raid. currently 700-900M profit/hour on lower T2-T3 quests.
All teams also have enough power to run horns at max lvl (Team 1 with Kuro has enough power with 750K+ combined and 100% revive. Team 3 and 4 have a few heroes just below 150K, but their moonplate/robin's hoods are easy to switch for power items) but I'm usually avoiding horns due to low bp frags & profitability, only 100M/hour & very long injury downtime which would kill my income.
It's still a big work in progress, I'm aiming towards 4 revive teams with a lot more lootboosters and more speedrunner added to get to 1G+ per hour from questing. (And I'm still doubting a bit about the revive as it takes up way more item slots as healer. So 90% healer would allow for even more lootboosters & higher profits on the quests I usually run).
On a sidenote... healer of course only stacks to 90% =P some of my teams are a tad over-healered (& over-supported) atm.
small update, I'm up to 3 revive teams now (Oct. 2018), with some more speedrunner added: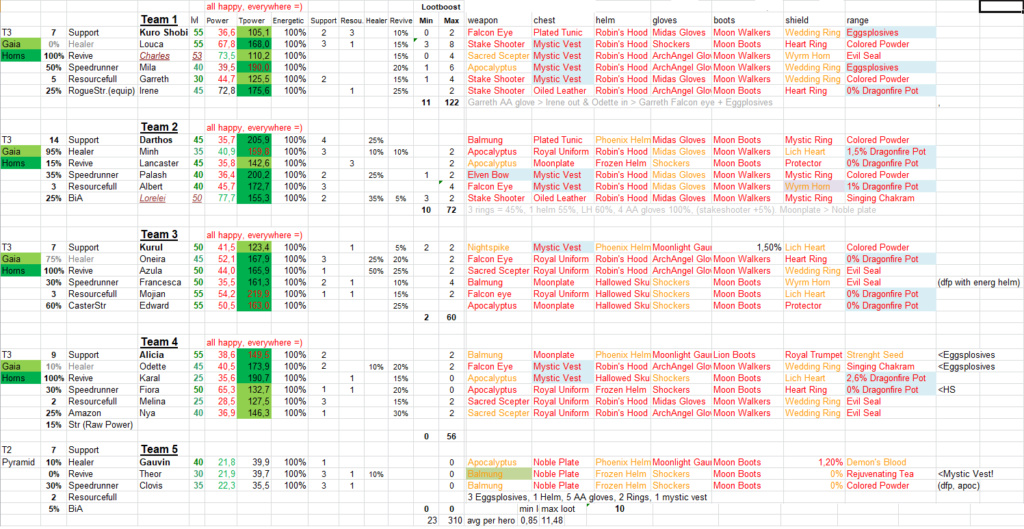 I'm working towards this in the (very) long run: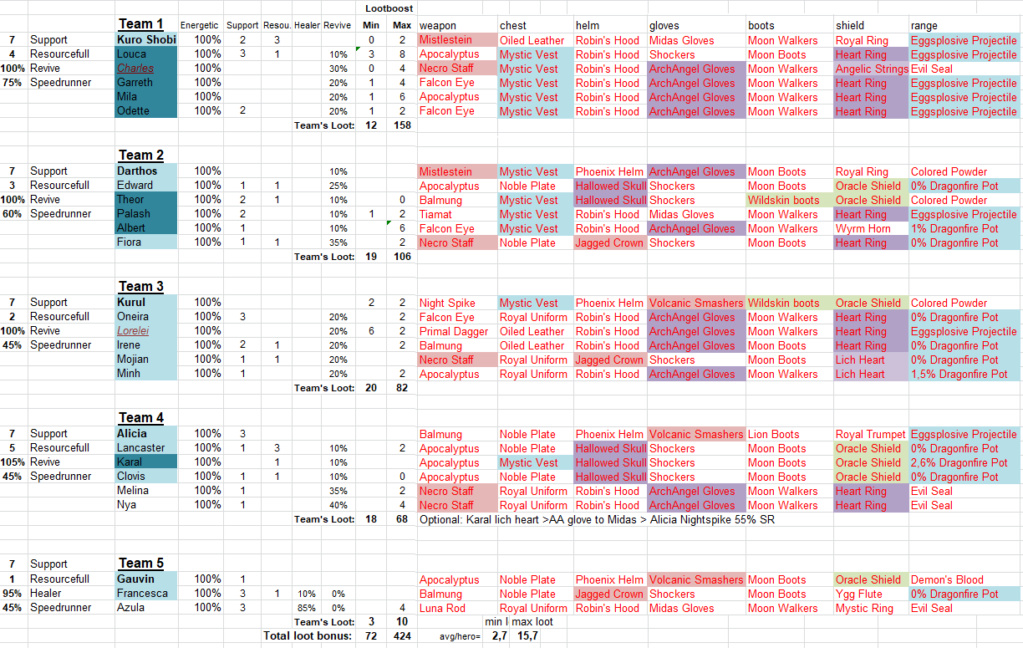 4 full revive teams & a 5th smaller 90% healer team, each with 45%+ speedrunner/7 support/100% energetic & lots of lootboosters.
It's not the best build possible... just my personal solution to the skill puzzle that works with the blueprints I have & can get from chests. (I'm still missing the bp's with a red/green background) I haven't used any skill build optimizers, so I might be able to fit some more lootboosters in there somehow lol.
(And I wrote "team's loot:" on my sheet but it's only the bonus loot amount. For example on 2-5 yield missions, resulting in a base amount of 12-30 items per full team, Team 1 would bring back between 24-188 items).
Last edited by Danean on Thu Nov 21, 2019 2:03 pm; edited 1 time in total

Danean




Posts

: 7


Join date

: 2019-02-07



Firgured I'd add & update mine as well as it's been over a year (before we had relic bp's & rising tempests).
Current build:
3x 100% revive teams, 1x 90% healer team, all with at least 60% speedrunner (and 100% energetic & lots of lootboosters)
Team 5 is my mini-team, will have 60% SR to match the others soon with a rising tempest & volcanic smashers. They can run raid at T3, but I'm also using them as back ups for injuries when needed =)
(lightblue background= group lootboosters. orange background= items I'll be replacing soon for more lootboost/SR)
About 10 items left to fuse, untill I start chasing the last 2 primal bp's (necro staff & mistlestein) I'd still need to make the build I have planned… 4x100% revive teams and a mini-team with 90% healer. It still still needs a bit of tweaking/puzzling as I'm a tad over-supported:
While I'm very happy with my build, I usually buy a few packs every year to sponsor development of the game. So I've been planning my final build with 2 more packs in mind (hallowed casket+maple potions) to make 85% SR teams:
By no means the best build possible, as I only have a few of the shop packs. With more packs, you'd have a lot of better alternatives. I'm just working with what I have.
(And while I'm building revive teams atm, I am still saving all my healer items, in case I'd want to switch back to that in the future, as it would allow me to squeeze in a lot more lootboosters and yield better results on the raid & more profit from (lower) quests as a result. Revive is very convenient and great for long injury time quests... but it takes up sooo many item slots =P Everything in red/purple= revive. With healer, it would take me 4 or less item slots per team)
Last edited by Dessy on Sun Aug 25, 2019 7:14 pm; edited 2 times in total
Similar topics
---
Permissions in this forum:
You
cannot
reply to topics in this forum