City Raid: Howling Mountain (Lycan Slayer blueprint)
Triple (!) Loot Heroes: Clovis, Kurul & Palash

Event Style: Raffle
Standard City Raffle (Lottery), every 500 points = 1 ticket. (Fair share+ req. as always)
(check our website, below the city info for a detailed explanation of how raffles in the city work)

Prize Pool: *winners added*
-3x Legendary lvl 40 Balmung (Sword, 4500 power, Support II with advanced shopfare pack, TH value ~400gems) LunaticX, Danean & Jerith Geros
-2x Legendary lvl 28 Oiled Leather (Vest, 1950 power,  Energetic I, TH value ~287gems) Will & Squark
-2x Mythical lvl 9 Moon Boots (1050 power, Energetic I, TH value ~150 gems) Tzell & Fenton
-2x Mythical lvl 10 Moonlight Gauntlets (1200 power, Speedrunner I, TH value ~90gems) (thanks to Illatoriach!) Viniciro & Sandal2110
-added: 1x Epic lvl 50 Gaia's Essence (Potion, TH value ~20gems), (thanks to Pixie, I won it from the challenge… just forwarding)   Joycelina


Extra Endless Bonus Rewards, thanks to illatoriach:
-?x Mythical lvl 17 Lunarod (3500power, Healer I, TH value ~99gems), 1 rod added to the prizepool for every 2 endless stages completed Courtney, Filip & Ranrar


Bigger raffle this weekend with some nice items & extra endless bonus rewards =)


Old rewards still unclaimed:
Epic lvl 35 One-Shot (Gun): Viniciro
Epic lvl 25 Mystic Scroll (Spell): Sandal2110
Last edited by Dessy on Mon Dec 10, 2018 6:04 am; edited 9 times in total
Nice raiding all, endless 7 completed (7K+ towards 8 ) so 3 mythical lunarods have been added to the prizepool.
Everyone above fair share & 4 players passing, which left a total of 169 tickets for the raffle draws.
Grats to the lucky winners, I've added them in the first post =)
Raffle Calculations & Draws: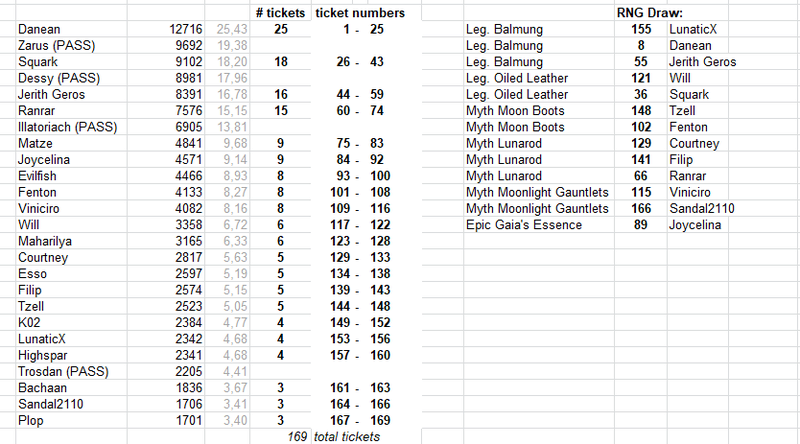 All city raidscores have been entered into Pixie's Raid Challenge as usual, for a chance at extra prizes.
(2k+ = normal entry & 10K+ = extra draw.  1-2K = seperate mini-raider draw)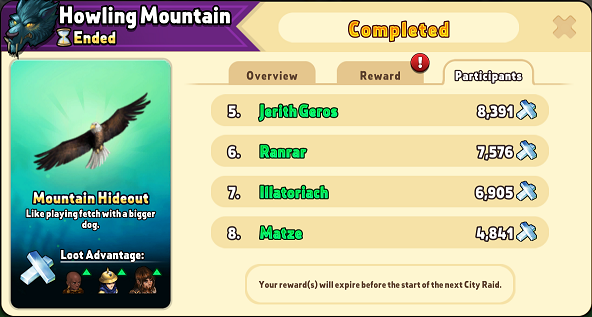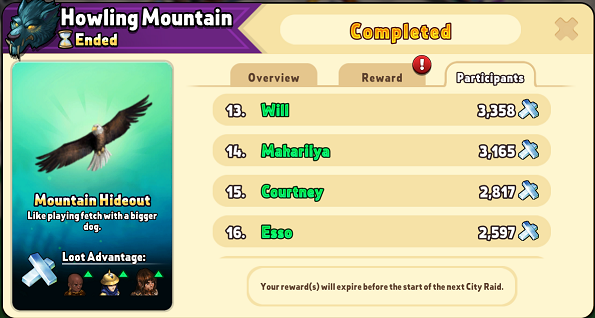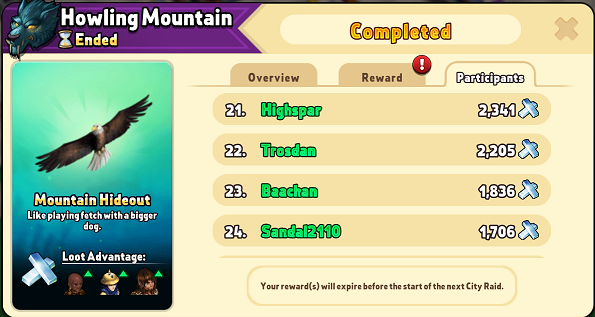 Similar topics
---
Permissions in this forum:
You
cannot
reply to topics in this forum