City Raid: Vermin Infestation (Apothic Shiv blueprint)
Double Loot Heroes:  Alicia, Garreth & Mila

Event Style:  Top 5 & 3 Random

Prize pool:
-8x Legendary lvl 18 Noble Plate (Support I, TH value ~100gems)

I'd expect these to be gem sales or mythical attempts for almost everyone in the city.
If anyone is still working on basic support and could use them as an upgrade for a hero, feel free to request one this weekend. It's a great skill to have to lower/prevent item breaks.




Old rewards still unclaimed:
-Sandal2110: One legendary item, choice between evil seal (lvl 26 spell) or singing chakram (lvl 26 projectile).
Last edited by Dessy on Mon Nov 19, 2018 3:27 am; edited 4 times in total
Nice raiding all, endless 7 completed this weekend.
Legendary Noble Plate winners:
-Top 5: Danean, Squark, Fenton, Bachaan & Will
-Random: Evilfish, k02 & Joycelina
All raidscores have been entered into Pixie's Raid Challenge as usual, for a chance at extra prizes:
Normal Entries (2K+ & 10K+):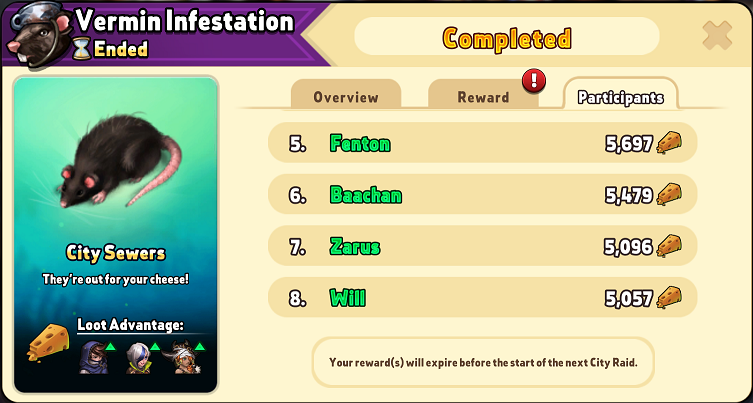 Mini-Raider Entries (1-2K):

Similar topics
---
Permissions in this forum:
You
cannot
reply to topics in this forum