Trade Wars Overview
Actually #15 on the leaderboard rankings this event, new city record, nice teamwork =)
Reached reward #28 (and we got close to unlocking reward #29).
Total rewards: 323gems + 20 empyrean dews + 30 BPF's + 8 basic charms + 4 powerful charms + 1 magic & gold key + 2 iron, wood & leather keys for every player.
With 40K points doable at a cost of <400gems per player average, we could have unlocked reward #30 & top 10 leaderboard rewards btw. (As many of us go far beyond that standard)
That would have been an extra  500gems claimable + a dwarvish key + more materials and charms for every player.
A few players very low on the scoreboard, some with a valid reason… Joycelina & Trosdan joined in on the last day, but still contributed close to 20K each in a single day. Esso didn't have the right PvP skills unlocked yet so couldn't get many points from PvP.
Also quite a lot of players not gaining full dominion points yet on the first days.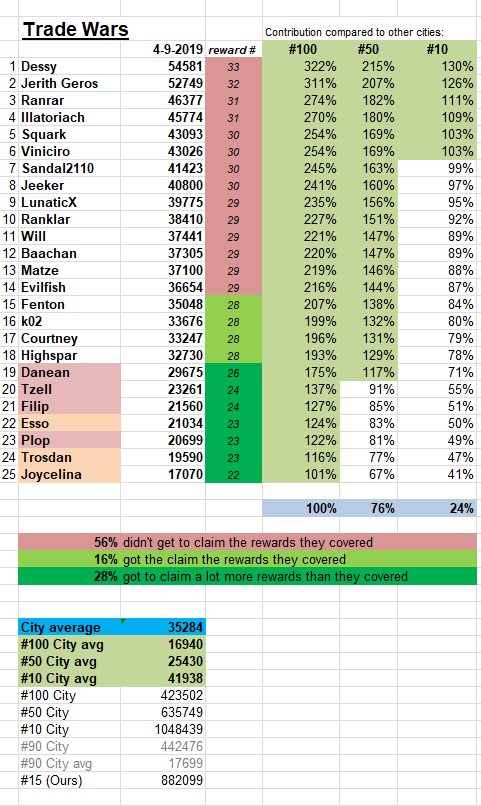 But..  this will be the very last time I'll mention this….
We're constantly missing out with the whole city on rewards, because even though we have a lot of players doing their best and quite a lot at the top investing 1K+ and/or even thousands of gems to help unlock more rewards for the city…
The problem of some players only doing the 1-10gem steps remains.
I've/we've tried asking nicely and spent a lot of time explaining it during the first 5 TW's…. The higher/good rewards we can expect in our city, can't be reached without everyone re-investing some of the gems that will be claimable from the rewards. Hence why every fair share/contribution example posted and given by several different players in the past has included gem investments including at least the 50gem steps.
I'm done asking nicely and explaining, as it has no effect at all. As city kick averse as I may be, I'm done with the constant 33-66gem per event only investors that refuse to make any attempt at fair teamwork, that prefer just claiming rewards they'll get anyways from that, at the expense of everyone else in the city… (actually including themselves but they fail to understand that).
I'm just going to be city removing the players that are always much lower in points than everyone else purely due to that, on events from now on.  End result would be better rewards for everyone & no more complaining mayor after every TW.
---
Permissions in this forum:
You
cannot
reply to topics in this forum