Pretty amazing Trade Wars, we ranked #24 on the leaderboard!
Nice teamwork all =)  Top 50 rewards & and we even unlocked the #30 reward for an extra 300gems.
Total of 1065gems, 20 empyrean dews, 40 basic charms and 18 powerful charms each.
Overview & contribution comparison to the top 10, 50 and 100 cities:
2 players below the minimum:
-Esso: accidently missed the deadline by a few hours, not realizing the last "day" was a shorter period of only 12 hours, he should be covering on the next one.
-Tzell: I'm not sure what happened there, last two he scored pretty high. I saw contributions on all 4 days (4K>8K>18K>24K).. so very low investments on the first 2 days. Well below the daily invest of at least 161gems+dwarvish chests+gold from
https://dessiana.actieforum.com/t85-trade-wars#279
which has been up in the MM for weeks, with regular spamming of the same info in city chat.
I've tried city chat when I saw him online 5+ times now, but I can't get a response. Just posting the same here in case he does check the forum: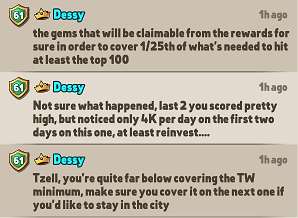 ---
Permissions in this forum:
You
cannot
reply to topics in this forum