City Raid: Vermin Infestation (Apothic Shiv blueprint)
Double Loot Heroes:  Alicia, Garreth & Mila

Event Style: Top 5 + 4 Random

Prizepool:
-9x Epic lvl 33 Shredder's (projectile)

Winners
Top 5: Jerith Geros, Ranrar, Will, Evilfish & Fenton
Random: Sandal2110, Bugsy, Plop & Maharilya



Old rewards still unclaimed:
-Epic lvl 49 Dragonfire Potion: LunaticX, Esso & Joycelina
-infmagic2047: Epic lvl 25 King's Gauntlets
-Highspar: Epic lvl 31 Protector Gauntlets & Legendary lvl 23 Swift Seed
Last edited by Dessy on Mon Sep 03, 2018 6:43 am; edited 5 times in total
Winners updated in the first post.
(Trosdan, Zarus, Illatoriach and I passing on rewards as usual & Squark passed this week as well so the "Top 5" ended up covering to #10 this week).
All 2k+ city raidscores have been entered into Pixie's Raid Challenge as usual for a chance at some extra prizes. Just storing the images here as usual.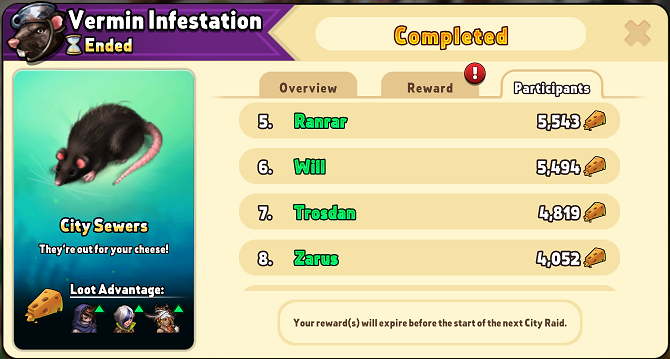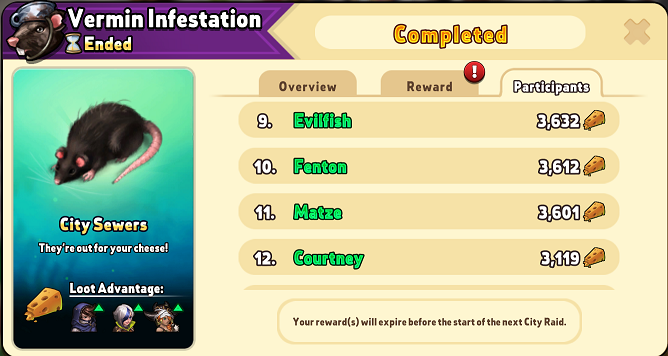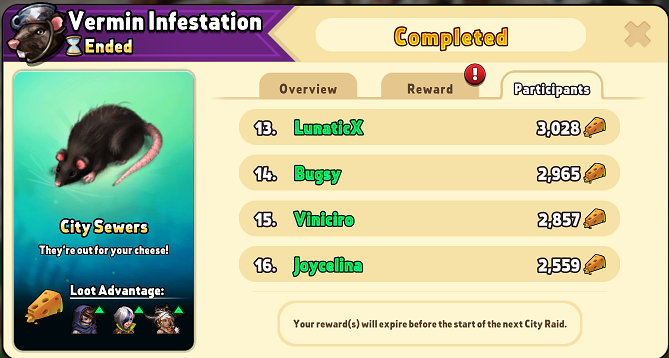 *update/added*: seperate 1K+ draws this week so those have been entered as well:
(old rest:)
Similar topics
---
Permissions in this forum:
You
cannot
reply to topics in this forum