City Raids
: 4 raids in July. With a bigger raffle event planned for the Rampaging Orcs raid.
Trade Wars
: The next one will start 5 August.
(They're still working on changes to the event,
details here
)
Other:
-
Raid Cycle Challenge
: 7 June - 18 August. At the end of the raid cycle (11 raids), I'll do an extra prize draw.
Odds to win will be based on your raid score average of the 11 raids: raffle (lottery) style, every 1000 points = 1 ticket.
You can find your current average and scores on the
event spreadsheet
Details to be announced later, prize(s) will be something nice =) Most likely a mythical city raid or similar lvl item as main prize & quite a few other nice items
Wild Overgrowth (Ended)
: Random
-3x legendary lvl 28 Oiled Leather (vest, energetic I)
winners: Will, Joycelina & Squark
Rampaging Orcs (Ended)
: Raffle (Lottery, 500 points/ticket)  
Fair share+ req. as always. (check our website, below the city info for a detailed explanation of how raffles in the city work)
Prize Pool:*winners:*
-2x Legendary lvl 40 item of your choice: Balmung or Midas Gloves (Support II pack items) Squark & Matze
-3x Legendary lvl 26 Evil Seal (Energetic I), spell, 1750 power Jeeker, Danean & Courtney
-3x Mythical lvl 9 Moon Boots (Energetic I) Fenton, Jerith Geros & Evilfish
-?x Mythical lvl 17 Luna Rod (Healer I), Staff, 3500 power, 1 rod added to the prize pool for every 2 endless stages completed Filip, Will, Bachaan, LunaticX & Plop
Night of the Curse (Last Raid)
: Top 10+2 Random   & several bonus prize draw
Prize Pool: 12x legendary lvl 19 Paladin's Helmet (Protector I).
The new raid with extra levels is expected for this weekend. I will be using the "old standard raid" fair share for the random helmet draws this week, as there is no info yet how many points per player are needed to finish the new raid.
I hope everyone will be aiming to cover 1/25th of the points needed to unlock the rewards they can claim as usual. I'd expect the new rewards to be valuable enough to easily cover the costs of a few extra speedboosts uses of the castle =)
-Bonus Prize Draws for the first new raid:
-1x legendary lvl 49 dragonfire potion, as random draw between those that cover the "new" fair share (1/25th of whatever amount of points it takes, to unlock the rewards we reached with our city)
And even more extra draws thanks to Viniciro!
-2 mythical lvl 30 relic hammers, as random draw between everyone that scores 5K+ points
*Winners:*
-Legendary lvl 49 Dragonfire Potion: Jeeker
-Mythical lvl 30 Relic Hammer (Thanks to Viniciro!!!): Baachan & Filip
-Legendary lvl 19 Paladin Helmet: Danean, Squark, Matze, Viniciro, Fenton, LunaticX, Evilfish,Tzell, Courtney, Joycelina + Highspar & k02
Small update with new raid info.. last stages (as I forgot to write down the points needed for the first stages):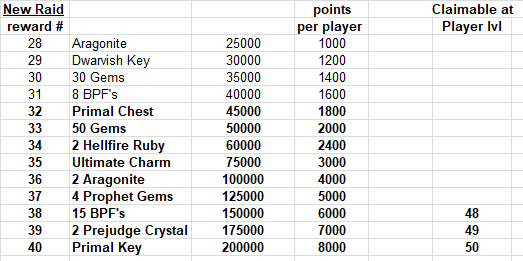 Old Rewards still unclaimed:
-
Last edited by Dessy on Mon Jul 29, 2019 4:07 am; edited 24 times in total
Nice raiding all, endless 11 completed, so 5 mythical lunarods added to the pool.
The winners have been updated in the first post. Raffle calculations & draws: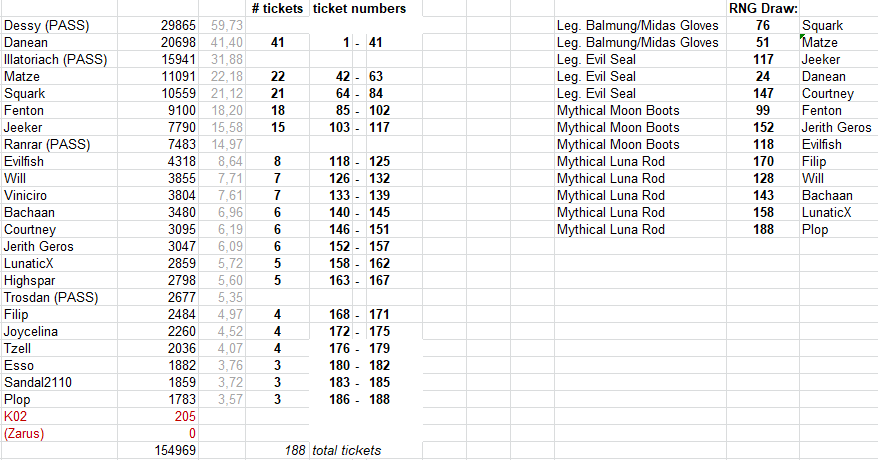 And all city scores have been entered into Pixie's Raid Challenge as usual:
City: Dessiana
Regular Entries: 20 (5x10K+ & 15x2K+)
+3 Mini-Raiders (1-2K):
Esso
Sandal2110
Plop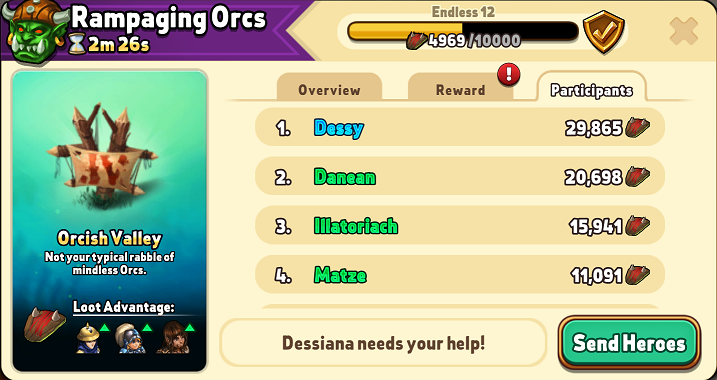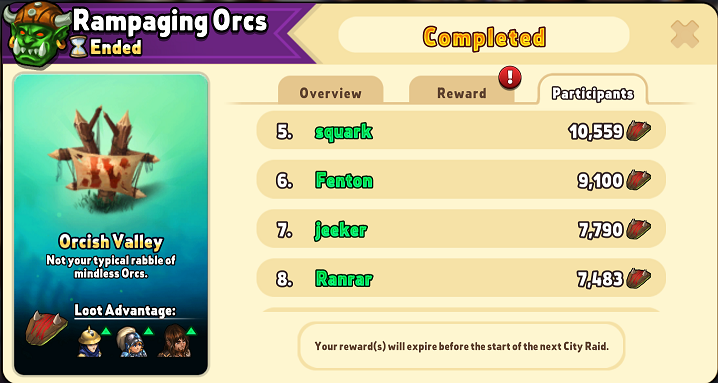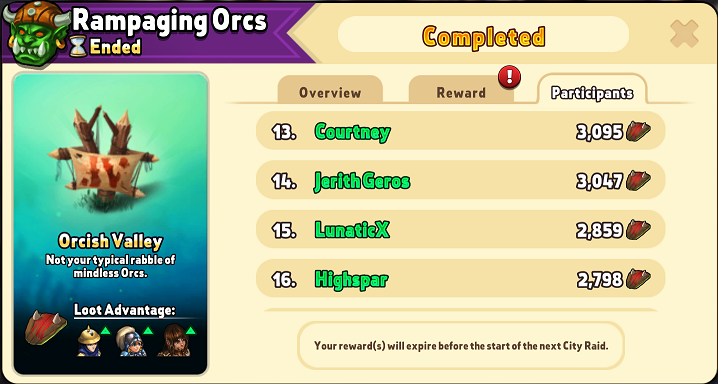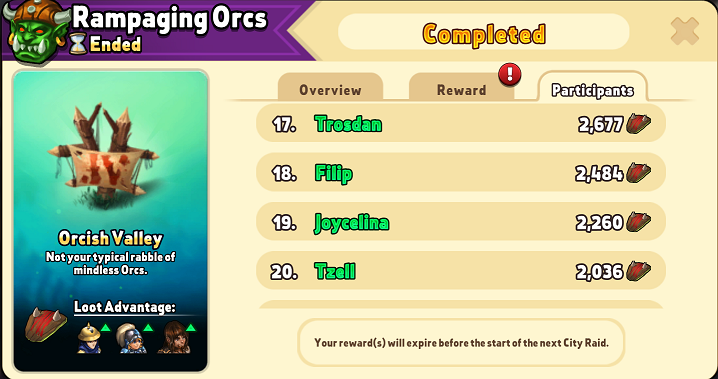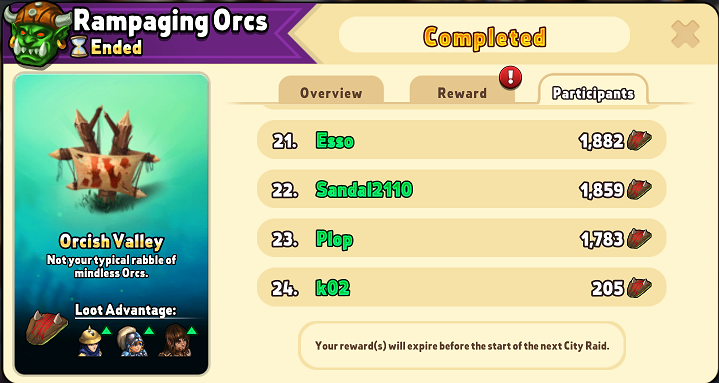 Similar topics
---
Permissions in this forum:
You
cannot
reply to topics in this forum