City Raid: Rampaging Orcs (Oracle Armor blueprint)
Event Style:
 Raffle
Standard City Raffle (Lottery), every 500 points = 1 ticket
(check our website, below the city info for a detailed explanation of how raffles in the city work)
Prizepool:
- 1x  Legendary lvl 49 Oracle Armor (4900 Power & Mage Armor)  
- 2x  Mythical lvl 9 Moon Boots (Energetic)
- 3x  Legendary lvl 26 Evil Seal (Energetic)
- ?x  I'll be adding 1 mythical lvl 17 lunarod (Healer I) to the prizepool again for every 2 endless stages completed.
I've crafted a legendary oracle armor as top prize for the weekend. If anyone doesn't have that blueprint yet, you'll get it this weekend =)
The rest of the prizes will be quite some energetic & healer items.
Other Event Info:
There's a special May Campaign for Pixie's Raid Challenge which started last week, with extra draws done for those raiding a total of 15K+, 50K+, 75K+ or 150K+ total points over the course of 5 weeks (last weekend + the 4 weeks in may).
The usual base rules apply, only 2k+ score entries are allowed, and I'll be entering them as usual for everyone in the city that qualifies.
Details here:
http://forum.shopheroes.com/viewtopic.php?f=9&t=9254
Last edited by Dessy on Mon May 14, 2018 1:08 pm; edited 2 times in total
Endless 5 completed this weekend, so 2 lunarods have been added to the prizepool.
A total of 105 tickets have been collected and the RNG has selected the following winners:
-Legendary lvl 49 Oracle Armor: Ranrar
-Legendary lvl 26 Evil Seal: Squark, Plop & Jerith Geros
-Mythical lvl 17 Luna Rod: Evilfish & D3athSlayer2015
-Mythical lvl 9 Moon Boots: Courtney & Will
Calculations & Draws:
(Order of prizes sorted by gemvalue at the Trade House, Oracle armor ~1160 gems being the highest and moonboots at ~100gems being the lowest)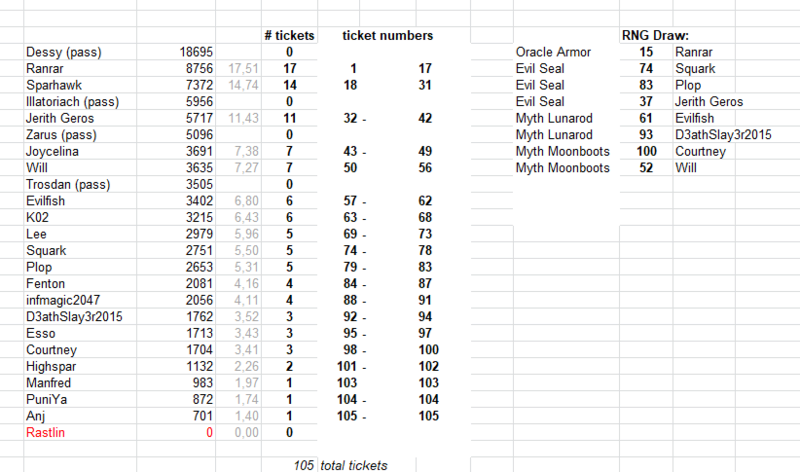 As usual, just storing the images here that I've entered into Pixie's Raid Challenge: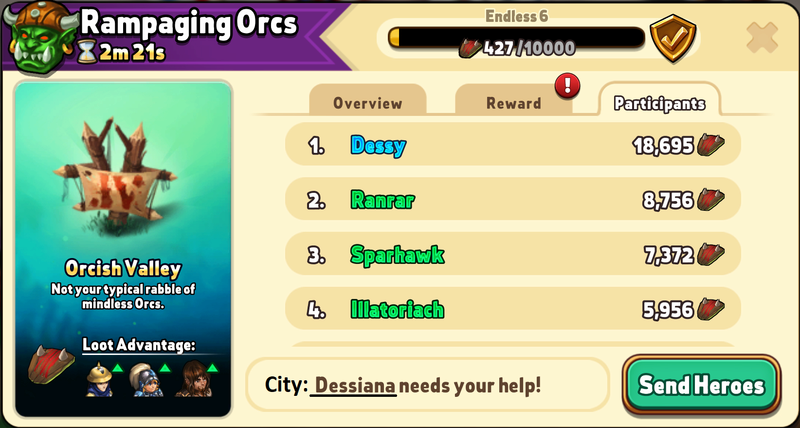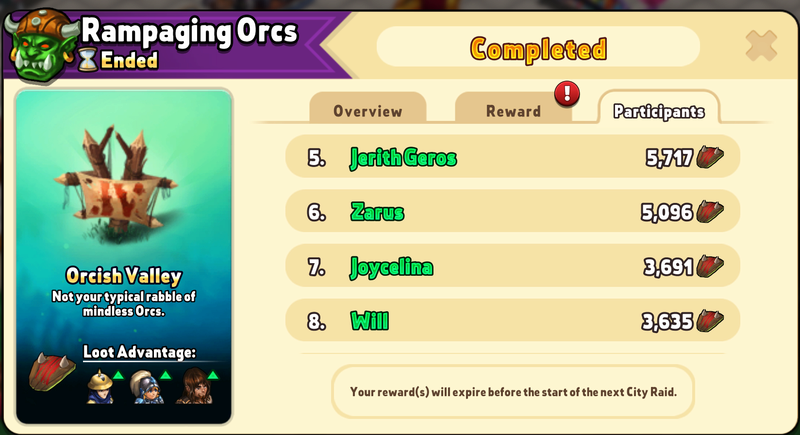 Last edited by Dessy on Mon May 07, 2018 5:53 am; edited 1 time in total
*bump* as I just created & reserved the posts for the next 3 raids
Small update:
We had a winner from Pixie's Raid Challenge in the city for this weekend, grats to Squark on winning an Epic Gaia's essence!
The prize will automatically be moved to your inventory by a GM later.
Similar topics
---
Permissions in this forum:
You
cannot
reply to topics in this forum