City Raid: Voice in the Dark (Stake Shooter blueprint)
Event Style:
Layered Rewards
(The top raider will recieve the highest value item, and the lowest ranking prizewinner will get the lowest value item from the prizepool)
Prizepool:
Updated with the winners
-1x Epic lvl 38 Dragonscale Gauntlets (~92 gems)Ranrar
-1x Epic lvl 39 Divine Ray (Spear, ~69gems) Sparhawk
-2x Epic lvl 32 Death Veil (Hat, ~54 gems) Viniciro & Jerith Geros
-2x Epic lvl 39 Viking Helm (~40gems) k02 & Joycelina
-1x Epic lvl 38 Infernal Rage (Axe, ~36gems) Fenton
-1x Epic lvl 38 Hawk Shield (~29gems) Will
-1x Epic lvl 37 Arcane Sandals (shoes, ~29gems) Evilfish
-1x Epic lvl 33 Archwizard's Hat (~29gems) Plop
-1x Epic lvl 39 Twilight Scimitar (Sword, ~28gems) Squark
-2x Epic lvl 39 Cultist Staff (~27gems) Esso & Lee
-1x Epic lvl 34 Blessed Aegis (Shield, ~27gems) Courtney
-1x Epic lvl 30 Wing Blade (Dagger, ~24gems) infmagic2047
-1x Epic lvl 33 Rising Sun (Gun, ~23 gems) Highspar
-1x Epic lvl 31 Protector Gauntlets (~22gems) D3athslay3r2015
-2x Epic lvl 32 Impaler (Spear, ~21gems) anj & Manfred
-2x Epic lvl 31 Heaven's Will (Sword, ~20gems) -
Yes, I'm cleaning up my inventory this weekend, I'm busy preparing for next weeks raffle
Mix of 20+ Epic quality items to give away this weekend, enough to cover everyone in the city.
Layered rewards, gem value of items have been checked on the trade house a few hours before the raid started to determine the order.
Winners list will be too long to fit into the MM, so I will be posting it here on monday & spam it through the city chat a few times untill enough has been claimed to fit the remaining winners into the MM.
Old Rewards still unclaimed:
- I still have a lvl 28 Oiled Leather (vest) for Highspar from last week.
Other Event Info:
There's a special May Campaign for Pixie's Raid Challenge, with extra draws done for those raiding a total of 15K+, 50K+, 75K+ or 150K+ total points over the course of 5 weeks. This raid is week #4.
The usual base rules apply, only 2k+ weekly score entries are allowed (10K+ for extra draw), and I'll be entering them as usual for everyone in the city that qualifies.
Details here:
http://forum.shopheroes.com/viewtopic.php?f=9&t=9254
Last edited by Dessy on Fri Jun 01, 2018 12:28 am; edited 3 times in total
Thanks for another good raid all, endless 6 completed this weekend. Winners updated in the first post.
I'll be spamming the list through city chat a few times as well, untill enough have been claimed for the remaining prizes & winners to fit in the MM.
All of the 2k+ scores have been entered into Pixie's Raid Challenge again. (just storing the pics here:)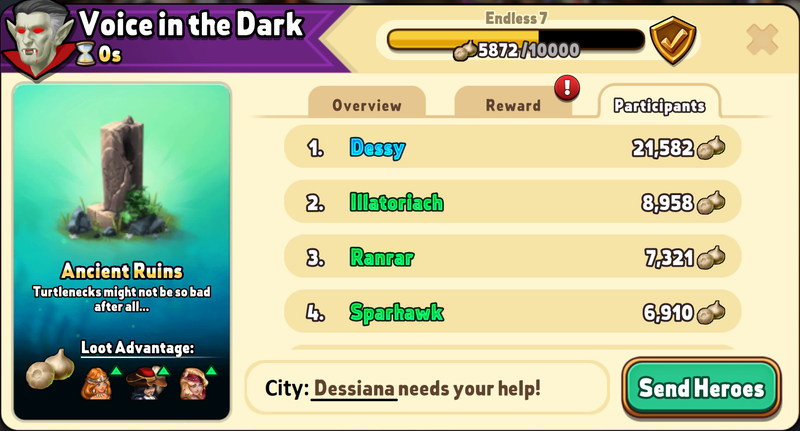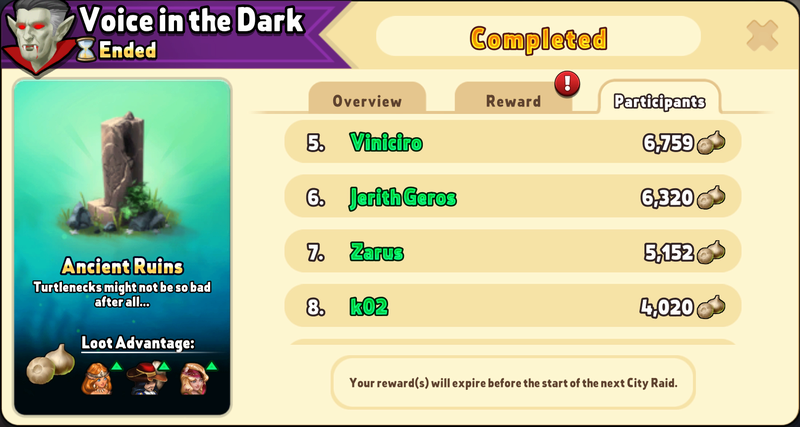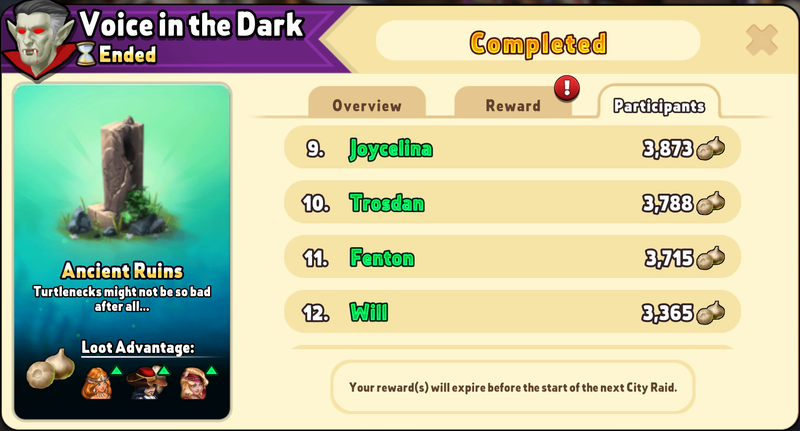 Similar topics
---
Permissions in this forum:
You
cannot
reply to topics in this forum