City Raid: Burning Countryside (Dragonfire Potion blueprint)
Triple (3x!) Loot Heroes: Nya, Edward & Francesca

Event Style: Raffle
Standard City Raffle (Lottery), every 500 points = 1 ticket. (Fair share+ req. as always)
(check our website, below the city info for a detailed explanation of how raffles in the city work)

Prize pool:
-2x Legendary lvl 49 Dragonfire Potion (4900 power)
-5x Legendary item of your choice: Evil Seal or Singing Chakram
            Lvl 26 Evil Seal (Spell, 1750power, Energetic I)
            Lvl 26 Singing Chakram (Projectile, 2100power, Healer I)  
-2x Mythical lvl 9 Moon Boots (1050 Power, Energetic I)
-2x Mythical lvl 10 Moonlight Gauntlets (1200power, Speedrunner I) Thanks to illatoriach


Extra Endless Bonus Rewards, thanks to illatoriach:
-?x Mythical lvl 17 Lunarod (3500power, Healer I) 1 rod added to the prizepool for every 2 endless stages completed


The Dragonfire Potion raid! One of my favorite items & it's a triple special heroes loot raid.
Bigger raffle this weekend with some legendary DFP's, nice skill items & extra endless bonus rewards.
All of the mythical moonlight gauntlets & mythical lunarods are thanks to illatoriach.

And this is the last raid of the october special city event. (See seperate thread).
Draws for both events will be done on monday.

Old rewards still unclaimed:
-
Last edited by Dessy on Tue Nov 06, 2018 7:03 am; edited 3 times in total
Amazing raiding all, we completed endless 17 which is a new city record!
9 players went a bit crazy and set a new personal record: Illatoriach, Squark, Danean, Matze, Evilfish, LunaticX, Maharilya, Tzell & Dessy.
With endless 17 being completed, 8 mythical lunarods have been added to the prizepool =)
25 participants, 24 above fair share & 4 of them passing, which left 20 players with 182 tickets in for the raffle.
With 19 prizes, that left only 1 unlucky player… so I've added one extra item.
All prizes have been sorted by TH value to determine the order of the draws, and the RNG has selected the following winners:
-Legendary lvl 49 Dragonfire Potion (4900 power, TH value ~228gems) Jerith Geros & Squark
-Mythical lvl 17 Lunarod (3500power, Healer I, TH value ~120gems)
Thanks to illatoriach!
Danean, Will, LunaticX, Evilfish, Bachaan, Joycelina, Matze & Highspar
-Legendary item of your choice: Evil Seal or Singing Chakram Viniciro, Courtney, Fenton, Maharilya & Sandal2110
           Lvl 26 Evil Seal (Spell, 1750power, Energetic I, TH value ~110gems)
            Lvl 26 Singing Chakram (Projectile, 2100power, Healer I, TH value ~85gems)  
-Mythical lvl 9 Moon Boots (1050 Power, Energetic I, TH value ~105gems) Tzell & Ranrar
-Mythical lvl 10 Moonlight Gauntlets (1200power, Speedrunner I, TH value ~49gems)
Thanks to illatoriach!
Esso & Plop
-added: Legendary lvl 19 Mage Robe (1350power, Arch Wizard I, TH value ~45gems) k02
Grats all =)
The calculations & draws: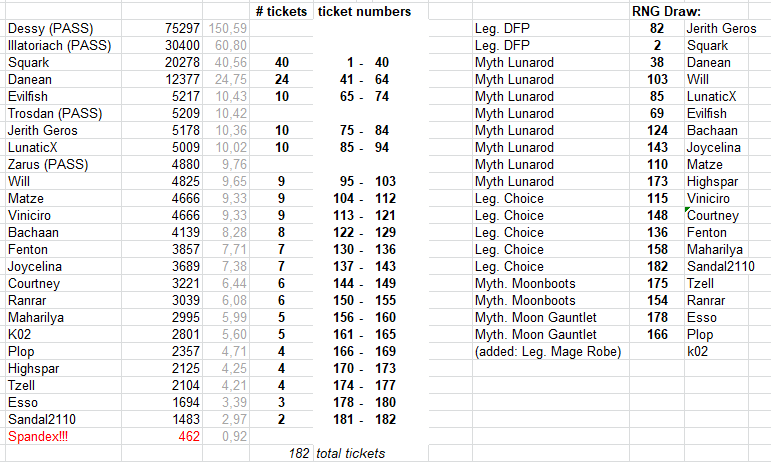 and as usual, all city scores have been entered into Pixie's Raid Challenge for a chance at extra prizes: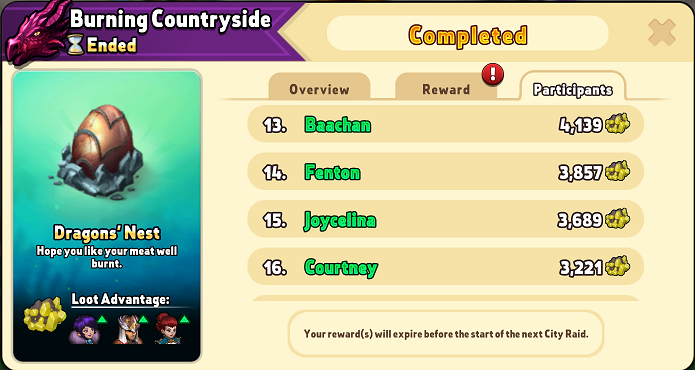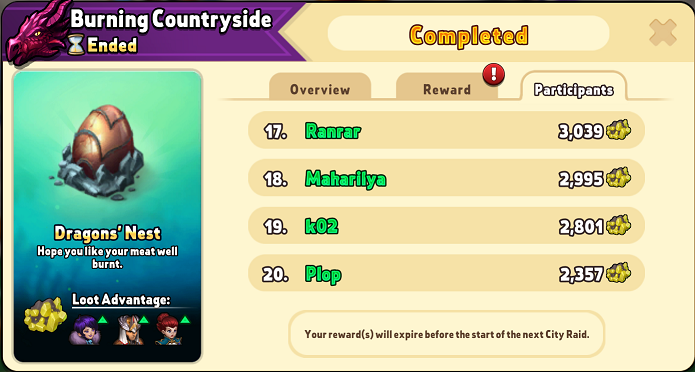 Mini raider entries (1-2K) & rest (LunaticX is covering for Spandex):
3 players in our city got Lucky with
Pixie's Raid Challenge
this weekend:
-Gem package - 10k: squark Dessiana 100 gems plus key
-1k item: Sandal2110 Dessiana Myth Racoon Ranger + 5 frags
-Werewolf Raider 2k: k02 Dessiana Lich's Heart Leg
Grats guys! The prizes will automatically be transferred to your accounts by a GM.
Similar topics
---
Permissions in this forum:
You
cannot
reply to topics in this forum